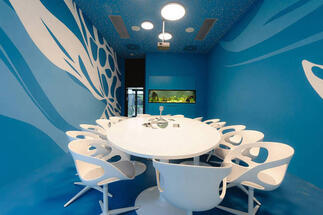 Microsoft's office space in Vienna was completed by INNOCAD architektur. The design combines a number of colorful, fresh, and eye-catching design elements to create what could be called Microsoft's most creative office space. This space features a number of themed conference and meeting rooms ranging from a hunting lodge ocean. Another popular feature is the plant wall in the reception – which also features an excellent x-ray graphic of a computer.

Throughout the space, architecture plays a key role facilitating "new work" in the functionality, infrastructure and design concept. The team creates an ideal working environment by developing a unique harmony between human beings, space and technology.
Connecting all three floors is the central element of Microsoft´s headquarters which includes: a communication hub that encourages interaction with interfacing, circular furniture, cafés, various lounges, coffee-points, a library and less public retreat rooms that encourage a multitude of activities ranging from spontaneous meetings to powernapping. Desk-Sharing, Homework, High Mobility – each of these employees gets an optimized feel-good working environment, which enables maximum productivity.
23 meeting rooms with different configurations are available and can be booked simply through Microsoft Outlook. There are also additional spaces designed for quick meetings or conference calls. 330 employees share open offices with 220 working spaces and 65 fixed working desks. The results optimized the total floor space by 10% with the simultaneous extension of the common areas, while at the same time decreased the office running cost. An average of 10% more employee satisfaction, 12% boost to productivity and efficiency, less floor space required, improved carbon footprints and many other similar positive results can be achieved and are already measurable.
Project name: HQ MICROSOFT AUSTRIA
Function: Office, Best of
Location: Vienna, AUSTRIA
Floor space: 4.500 m²
Number of floors: 3
Construction start: 07 / 2011
Completion: 10 / 2011
Construction cost: EUR 2,8 million net
Project team: Oliver Kupfner, Dominik Gladik, Jörg Kindermann, Martin Lesjak
Photographer: Paul Ott, Christian Dusek