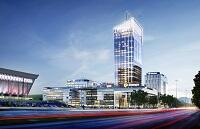 ManpowerGroup, a global HR consultancy, has leased 1,200 sq m of office space in Olivia Gate in Gdansk. The tenant was represented by global real estate services firm Cushman & Wakefield.
ManpowerGroup is the leader in HR solutions. It has operated in Poland since 2001 and has built a presence in 40 locations across the country. ManpowerGroup will focus on the growth of its Manpower and Experis brands in the new location, which will also be home to an international team delivering RPO (Recruitment Process Outsourcing) solutions. It provides services in contingent staffing and permanent recruitment, personnel consulting and career management. ManpowerGroup's brand portfolio includes ManpowerGroup Solutions, Manpower, Experis and Proservia.
"The relocation of our offices in Tricity is our response to the growing needs to accommodate our growth. As we are a recruitment partner for multiple cutting-edge organisations, an attractive office serves an additional function - it helps reinforce our image as a dynamic and reliable partner for both our clients and job applicants," says Tomasz Walenczak, Manpower Brand Director. "A multifunctional space in a convenient location also translates into a more comfortable work environment. Modern interior design items help us respond to diverse employee needs and meet their workplace expectations," adds Tomasz Walenczak.
"Olivia prides itself on its community - a unique group of companies and people. Not only do they work in buildings located next to one another, but they also build business-to-business relations and engage in joint projects, sports leagues, a joint sailing club and hundreds of similar charitable, business and activity-related initiatives. In Olivia Business Centre we are united by our passion and this motto best reflects the relations we do our best to build at the site. Manpower superbly complements our community as they are an HR company and a very important service provider for other Olivia residents," says Maciej Kotarski, Leasing Director, Olivia Business Centre.
"Cushman & Wakefield's team was responsible for securing a new office location in Tricity for ManpowerGroup. The integration of both local and global brands of the company posed many challenges, but we are pleased that we fulfilled all the requirements of our client and guaranteed business continuity of all the teams. The continued presence of ManpowerGroup in Gdansk for years to come is confirmation that the Tricity labour market still has a lot to offer," said Katarzyna Ciszewska, Junior Negotiator, Office Agency, Cushman & Wakefield.
Olivia Gate is part of Olivia Business Centre, the largest office complex in northern Poland, located at 472 Grunwaldzka Avenue. It offers more than 17,000 sq m of office space spread over seven floors, and a two-level underground car park with 365 parking spaces.
Source: Cushman & Wakefield