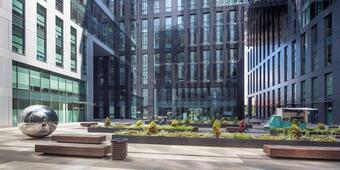 Lundbeck, which specialises in the treatment of diseases of the central nervous system, has been a tenant of Quattro Business Park since 2014 when it leased 1,700 sqm of offices. The company operates its own business services centre in the Kraków complex, providing services related to finance, HR, IT and the handling of purchasing processes for other branches of the company in Europe.
Quattro Business Park is soon to be refurbished. The internal patio between the buildings will be completely transformed, as will the reception halls and common areas. In addition, chargers for electric cars, bicycles and scooters are to be fitted, while additional showers and lockers for cyclists will be built and a parcel locker machine installed. The building's installations will be modernised, and the entire complex will be adapted to the requirements of ʻBuilding without Barriers' and Well certification.
The office complex consists of four 14-storey buildings and one of seven storeys, which together comprise 66,000 sqm gla and 1,300 parking spaces.