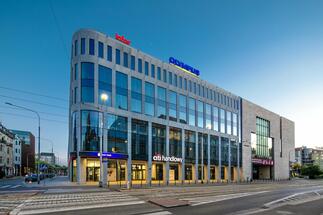 LeverX is a company with over 19 years of experience specializing in the implementation and customization of SAP solutions. The company's core mission is to provide full-cycle technological consulting, development and implementation services to companies, for successful business transformation. LeverX's deep expertise is based on its successful partnership with SAP as a preferred vendor since 2004.
"At LeverX, we focus on continuously improving the quality of our services and relationships with our business partners. The key issue for us is to be close to our customers, as well as to create a comfortable environment for our employees. We are convinced that the excellent location of Retro Office House, as well as the modern infrastructure of the building perfectly suits our needs and development plans," says Dzmitry Jabłoński, Managing Director of LeverX Poland.
"Retro Office House is one of the most distinctive buildings in the heart of Wrocław. Located in the city's strongly developing business zone, it is an ideal location for companies such as LeverX. We are convinced that both the location and the numerous amenities and infrastructure in the building will create an ideal workplace for LeverX's employees. We are delighted that Retro Office House will be the site of the next business development," says Magdalena Śnieżek, Senior Asset Management & Leasing Manager w Globalworth.
Retro Office House offers nearly 20,000 sqm of modern office space and 2,500 sqm of retail space.
"Due to the company's rapid growth, LeverX's expansion in the Retro Office House building has been divided into four phases, which will allow the company to properly prepare the space for new employees and go through the office transition process smoothly. In total, the company will occupy 3,200 sqm. We are pleased to have been able to advise LeverX in the process of selecting its new workplace and negotiating the contract," says Aleksandra Stanisz, Consultant in JLL's office space department.
source:europaproperty.com