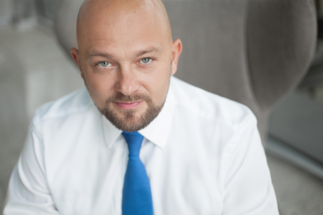 "Tenants searching for office properties to rent in Warsaw continue to face limited availability of larger spaces, particularly in the city centre, with landlords holding the upper hand in lease negotiations and rental rates going up. Service charges are also rising, up by 20% over the year at some office buildings," says Artur Sutor, Partner, Head of Office Department at Cresa Poland.
In the first three months of 2019, Warsaw's total stock increased by 3.9% year-on-year to the current 5.48 million sqm. The city's vacancy rate stood at 9.1%, down by 1.7% on the first quarter of 2018.
The RICS's Occupier Sentiment Index reached 15 points with the moving annual average at 20 points. It is based on a composite measure of commercial property lease market indicators comprising occupier demand for commercial space to let, availability of leasable space and lease incentive packages for potential tenants.
Three office buildings were completed in the first quarter of 2019: Spark B (15,000 sqm, Skanska), Poznańska 37 (3,000 sqm, ICON Real Estate) and Kaleńska 5 (1,500 sqm, AT Trading). The Warsaw market will see a significant growth in new office space in the coming quarters and the total annual supply is likely to top 300,000 sqm.
Total office take-up amounted to more than 140,000 sqm. The largest transactions included Wirtualna Polska's 7,000 sqm lease at Business Garden 6, a confidential tenant's 6,950 sqm lease at Vector + and another confidential tenant's 5,800 sqm lease at The Park 6.
"In the first quarter of 2019, absorption amounted to -3,590 sqm. It was the first negative value in the last three years, which we believe to have been a one-off correction due to the limited supply of new office projects in the first three months of the year," says Bolesław Kołodziejczyk, PhD, Head of Research & Advisory, Cresa Poland.
The limited availability of larger spaces pushed office rents up over the year with the average annual growth of EUR 1/sqm/month. Office rents currently stand at EUR 11.5-14.5/sqm/month in Służewiec, EUR 13-15/sqm/month in Jerozolimskie Avenue, EUR 14-19.5/sqm/month in Nowa Wola, and at EUR 16.5-23.5/sqm/month in the Central Business District. The natural gap between rents in the city centre and non-central locations is still approximately EUR 6 per sqm.
Source: Cresa