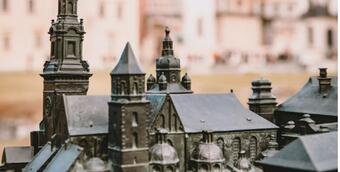 According to Krakow IT Market Report 2023 published by MOTIFE in partnership with Cushman & Wakefield, occupier activity began to recover in the Krakow office market about a year ago. Its recovery will be further driven by the employment growth generated by IT companies and nearshoring. In 2022, 40 new Ukrainian companies registered in Krakow following the relocation of their operations to the capital of the Małopolska region, reveals the report.
Companies appreciate Krakow's diversity
In 2022, Krakow maintained its position as the largest regional city office market. Nine buildings with a combined area of over 100,000 sqm were put into use in the last 12 months, while the first quarter of 2023 finished with close to 43,000 sqm of new office space delivered to the market.
"Total prime office stock in Krakow stands at almost 1.8 million sqm. The Krakow market provides a large variety of diverse office options, including large complexes with a capacity of 5,000+ people such as Fabryczna Office Park, High5ive and Quattro Business Park. There are also smaller buildings offering a more private experience, historic houses in the Old Town or industrial buildings in post-industrial areas. This broad offer is being appreciated by a growing number of tenants entering the Krakow market such as high-tech companies and start-ups looking for locations with a unique vibe that will support recruitment processes," comments Dariusz Madej, Associate, Cushman & Wakefield.
According to Krakow IT Market Report 2023, Krakow has approximately 55,000 IT specialists, accounting for a substantial proportion of Poland's total IT talent pool of 360,000.
"Employment in the Krakow tech sector grows by approximately 10 percent every year. This trend is driven by both the continued expansion of the existing players and the arrival of new technology companies. It is also worth noting that 40 new Ukrainian IT companies registered in Krakow last year among which are those who relocated part of their operations to the capital of the Małopolska region. The continued growth of the IT sector as well as the acceleration of the "return to the office" trend are also an incentive for property developers and investors to commence new projects in the city," says Michał Piątkowski, CEO at MOTIFE.
The growing number of start-ups and high-tech companies in Krakow has accelerated the development of coworking spaces, serviced offices and hybrid spaces. According to global real estate services firm Cushman & Wakefield, flexible office stock in Krakow stands at 56,000 sqm.
"After a period of muted activity in the flexible office sector in 2020, companies viewed such space with renewed interest in 2021. In the last 12 months, this trend intensified due to the need to optimise office maintenance costs and a growing number of Ukrainian-based businesses transferring their employees to Poland," adds Jan Szulborski, Office Market Expert, Cushman & Wakefield.
Tenants are back
Occupier activity in the Krakow office market averaged 155,000 sqm during the pandemic, down by close to 40 percent from the 2019 peak, reveals data from Cushman & Wakefield.
"After two years of subdued demand, transactional activity bounced back last year, largely driven by companies which had put lease decisions on hold in 2020-2021. Throughout 2022, tenants leased nearly 200,000 sqm in Krakow, an increase of 25 percent year-on-year. This result was close to pre-pandemic levels. It is also notable that new leases and expansions accounted for over 70 percent of total take-up. In the first quarter of this year, tenants signed leases for more than 38,000 sqm. Office demand in Krakow is expected to continue its upward trend this year," comments Michał Galimski, Partner, Head of Regional Markets, Cushman & Wakefield.
The growth of the Krakow office market will largely be driven by the modern business services sector, including tech companies. According to ABSL, employment in this sector will increase in 2023 by almost 8 percent to over 100,000, which is likely to bolster demand for new office accommodation.
Rents are the highest in the city centre – no surprise
At the end of the first quarter of 2023, prime headline office rents in Krakow stood at €15.20-16.50 per sqm, depending on location. During that time, due to rent indexation, rental growth reached around 9 percent under EUR-denominated leases and 14.4 percent under PLN-denominated contracts.
"Office rents are expected to remain under upward pressure, especially in office buildings in central locations. Rental growth will, however, depend on several factors including planned development projects, land availability and the macroeconomic situation. Krakow is a strong business brand, which is expected to contribute to stability in its office market," adds Dariusz Madej.
High vacancies? Only for a while!
The muted occupier activity due to the COVID-19 pandemic and relatively high levels of new office supply has resulted in a significant increase in office availability in the last 36 months. At the end of the first quarter of 2023, Krakow's vacancy rate was 17.4 percent.
"The high availability of office space in Krakow will, however, be short-term due to a reduction in the number of new projects scheduled for completion in 2024-2025 and the gradual recovery in transactional activity. The vacancy rate is expected to edge down again in the coming 12 months, with the office absorption rate likely to incentivize developers to launch new projects for delivery in 2025-2026," concludes Jan Szulborski.