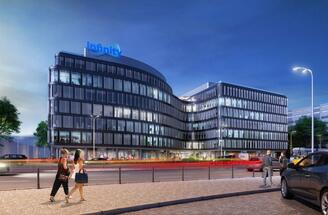 The implementation of the foundation slab was one of the most important elements of the underground works as part of the construction of Infinity. After completion of the bottom slab, currently, among others, walls, columns and ceilings on floors -2 and -3 are being made. Installation works are also in progress. The achievement of the zero point and completion of the underground construction is scheduled for the beginning of April.
(...) as the construction progresses, the interest of potential tenants of Infinity is increasing. We are conducting advanced talks, which I strongly believe will soon turn into lease agreements. Next year, we will be able to welcome the first tenants - said Mariusz Frąckiewicz, national director of Avestus Real Estate in Poland.
Infinity will be a seven-storey A-class office building, which will include, among others almost 19 thousand sq m office space, less than 1.6 thousand. sq m of retail space and a three-level underground garage with 311 parking spaces. With cyclists in mind, there will be 120 bicycle stands in a closed zone with changing rooms and showers. The office building will have a BREEAM certificate at the Excellent level.