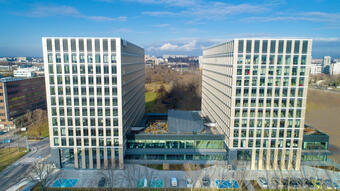 Podium Park A is the first of three buildings of the Podium Park office complex, located at 43a Jana Pawła II Avenue in Kraków. It is owned and managed by Globalworth, a leading office investor in Central and Eastern Europe.
The 11-storey building, to which HEINEKEN Global Shared Services will move into already in Q2 2022, offers almost 18,700 sqm of office space and 1,195 sqm of retail space. The building provides 270 parking spaces, as well as 13 spaces with the possibility of charging electric cars. The property is one of the most ecological and modern office buildings in Poland, which is confirmed by, among others, by BREEAM certificate at the highest possible level - Oustanding. Podium Park A offers numerous facilities, including infrastructure for cyclists with 120 parking spots, lockers and showers. The building is also distinguished by a large amount of greenery - tenants have access to courtyards and terraces with rich vegetation and relaxation zones, with a total area of nearly 4,000 sqm.
"We are delighted to welcome HEINEKEN to Podium Park - a company that, like Globalworth, does not compromise on quality. From the very beginning, our office building has attracted brands that focus on innovation, ecology and the highest quality space. Tenants appreciate it very much, which is confirmed by commercial success of the entire investment - building A is 100% - and the newest building B, completed only six months ago, has already been leased in over 80%," says Julie Archambault, Senior Leasing Manager at Globalworth Poland.
HEINEKEN Global Shared Services is an integral part of HEINEKEN, operating in Kraków since 2012 and constantly expanding the scope of its activities. It is responsible for financial and accounting, IT, audit, design and transformation services. As the winner of Business Services Firm of the Year 2021 in Kraków, the company currently employs over 1,200 employees and expects further dynamic growth.
"Currently, many companies are working on a return to offices strategy and thus look at the functionality of the current office space in terms of implementing hybrid work. A large supply of modern office space in Kraków creates very interesting opportunities for tenants who are open to relocation and rearrangement of space according to the new needs of their organization. HEINEKEN is one of the companies that took advantage of this opportunity and will relocate in a few months. Now our experts from the Workplace Innovation, Design&Build and Building Consultancy departments, together with HEINEKEN, are working on arrangement and preparing an office at Podium Park that will support the development of our client's business in Kraków for the next few years", says Anna Galicka-Bieda, regional director in Kraków at Colliers.
Source:// Property Forum