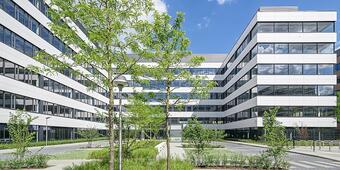 Vastint Poland has signed a lease agreement with the current tenant, GSK Services, in Business Garden Poznan. Due to its dynamic expansion of operations, the company – a subsidiary of an international pharmaceutical group – rented an additional 5,100 m² of office space, comprising three floors. In total, the company's operations will occupy 6,800 m².
Business Garden Poznan is a modern complex that consists of nine A-class office buildings with a total leasable area of 88,000 m2, located on a 6-hectare plot in Poznan, Poland.
Characterized by its low buildings, the campus consists of spacious green areas, including a carefully designed garden for the pleasure of employees and residents of the city. Relaxation zones on the premises help visitors create a meditative atmosphere, or allows them to easily engage in outdoor sports activities. Business Garden offers extensive, state-of-the-art infrastructure for cyclists, and a wide range of facilities for tenants, including a canteen, a kindergarten, a medical facility, and a first-class fitness club.
Key architectural and technical solutions implemented in the buildings, particularly in the reduction of water use and energy consumption, and in the control of the internal environment, meet or exceed the requirements of the highest level of LEED certification.
Source: Vastint