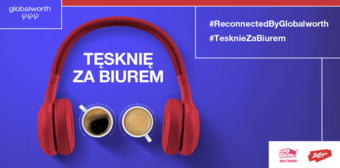 The list of what our communities miss about office life is endless, still the most common answers, also turned into drawings by an illustrator on the Globalworth Instagram profile, are the following: "I miss the morning coffee in the office kitchen, I miss all the jokes at our desks, I miss reading a book on the way to work, I miss creative team meetings, I miss compliments from colleagues as I pass them in the office corridor, I miss having a clear distance between my personal life and my job…".
All of this became abundantly clear the first time Globalworth embarked upon its 'I Miss My Office' campaign at the turn of November and December 2020, simultaneously in Poland and Romania. At that time, the listeners of Radio Kolor in Warsaw and Radio Guerrilla in Romania were able to share their pre-pandemic memories over four weeks, recalling everything that makes office life so enjoyable. The campaign was accompanied by online concerts by such Polish and Romanian stars as Smolik // Kev Fox, Natalia Przybysz, Dan Byron and The Mono Jacks.
The campaign was met with a very warm response, particularly from the office communities of both nations. That's why the leader of the Polish and Romanian office market, Globalworth, has decided to continue it, this time extending the reach of the campaign across the whole of Poland thanks to its partnership with Radio Zet and Meloradio.
"This March it will have been a year since the pandemic turned our lives upside down. Since then, many of us have been forced to work completely or partially from our homes, which has not only become a great inconvenience, but has most of all taken away such an important part of our everyday life – the opportunity to work together with our office colleagues. Through our campaign, we aim to raise people's spirits again by chatting on the radio over a morning coffee together and thus helps them get through this difficult time. Simultaneously with the Polish edition, we are also continuing the campaign in Romania, with our local partner, Radio Guerrilla. The previous edition clearly showed that we have the same needs and longings regardless of the country," says Georgiana Oltenescu, Group Head of Marketing and Communication at Globalworth.
"Together with Radio Zet and Meloradio, we are starting the second stage of the campaign, during which we will talk to listeners and experts about what we miss most when working from home. There will also be competitions: those who have the most interesting office stories to tell will be broadcast live and for the best of these stories coffee machines will be awarded – as this is an item we associate so positively with office life," says Paweł Słupski, Senior PR and Marketing Manager of Globalworth Poland.
The 'I Miss My Office' campaign is to be launched in March on Radio Zet and will receive wide coverage – it will be mentioned during economic news, it will appear in Beata Tadla's 'To Właśnie Weekend' slot, and it will even be covered in a special edition of the 'Nosel Wkręca' show. The campaign will include conversations with psychologists and experts on the office market, as well as a nationwide competition for listeners during which everyone will be able to tell their own stories related to what they miss the most about office work. Attractive prizes will be presented for the best of these.
During April and May, the action will move to Meloradio (formerly Radio Zet Gold) – a network of 19 stations broadcasting in 22 Polish cities. Through this, we will also connect with the audience, so that they can share with us their feelings and stories related to working in the office. Prizes will also be awarded for the most interesting of these. Psychologists and sociologists will also be on hand to give their opinions on the most important and current topics – about the pros and cons of working from home and how it affects the way we function, our family relationships, our efficiency as well as our physical and mental health, and about which work models are the best in the long term.