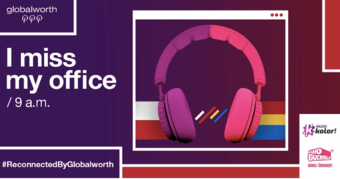 With a portfolio of over 700 national and multinational corporations in both countries, Globalworth aims to bring back together its communities in a different way. Every morning for the next 4 weeks, between 9 a.m. and 10 a.m., these two national radio stations will broadcast a dedicated I miss my office hour. Over the course of these 60 minutes, the morning show hosts will take the pulse among listeners, chatting about the moments they miss the most when not being together with their work colleagues, sharing jokes they used to make at the office, reminiscing about fun moments during brainstorming sessions, their morning coffee with an office view, and all those other little things that make office life so enjoyable.
Every day, Globalworth will keep a visual diary with 20 things that people mentioned they miss about the office. Under the #ReconnectedByGlobalworth hashtag, this visual portfolio will be drawn by a Romanian illustrator and posted on the Instagram profile. Also, at the end of each week, a special playlist will be posted on Globalworth's Spotify account, featuring songs handpicked by the radio hosts from the song requests sent by people from both countries.
"We are the largest business community in Poland and Romania and we constantly keep in touch with all our tenants. Some of them enjoy working from home, others can't wait to get back to the office, but they all have one thing in common: they all miss the interaction they had with their colleagues and friends from their job and the fun little moments of the everyday life at the office. Human interaction is part of the things that make us grow and through this campaign we want to emphasize that office life is not only about work, but also about being part of a community. And it was only after we started working from home that we truly discovered its importance. We hope that I miss my office, a project made in collaboration with two very popular radio stations in Poland and Romania, Radio Kolor and Radio Guerrilla, will help us to reconnect on air for the moment and soon at the office", said Georgiana Oltenescu, Group Head Marketing and Communication at Globalworth.
Although office life has changed, people still crave for some of the moments they had there – especially the morning routine when they were catching up with the co-workers before starting the workday.
About Globalworth
Globalworth is a listed real estate company active in Central and Eastern Europe, quoted on the AIM-segment of the London Stock Exchange. It has become the pre-eminent office investor in the CEE real estate market through its market-leading positions both in Romania and in Poland. Globalworth invests, acquires, develops, and directly manages high-quality office real estate assets and industrial and logistics parks in prime locations, generating rental income from high-quality tenants from around the globe. Managed by over 200 professionals across Cyprus, Guernsey, Romania and Poland, a combined value of its portfolio is €3.0 billion, as at 30 June 2020. Approximately 94.4% of the portfolio is in income-producing assets, predominately in the office sector, and leased to a diversified array of c.700 national and multinational corporations. In Romania, Globalworth is present in Bucharest, Timisoara, Constanta, and Pitesti, while in Poland its assets span Warsaw, Wroclaw, Lodz, Krakow, Gdansk and Katowice.