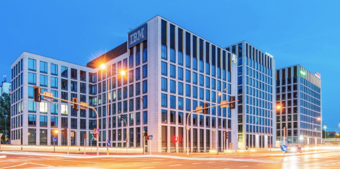 Globalworth has 22 office and office/retail buildings in Poland with a combined leasable area of over 600,000 sqm. Since the beginning of the year, all of them use green energy completely generated from green sources such as hydroelectricity plants, as well as wind and solar farms.
"Sustainable development and ecology are issues that are of extreme importance to Globalworth as well as to our business strategy. We approach the question of environmental protection very seriously and this is why we place such importance on where the electricity that our buildings use comes from. As a result, it is all the more my pleasure to announce that all our properties since the beginning of the year are exclusively powered using green energy, which allows us to significantly reduce our carbon footprint and to contribute to limiting CO2 emissions," says Maciej Kamiński, the Head of Property & Facility Management at Globalworth Poland.
The use of renewably-sourced electricity for its properties is not the only example of Globalworth's commitment to sustainable development and environmental protection - every centre in the company's portfolio has a green certificate that is either BREEAM or LEED to prove that it is an ecological development. At the same time, the company is investing in modernising its buildings so that they meet the highest environmentally friendly standards and the result of this is that its properties are continually being recertified with higher ratings..
ABOUT GLOBALWORTH
Globalworth is a listed real estate company active in Central and Eastern Europe, quoted on the AIM-segment of the London Stock Exchange. It has become the pre-eminent office investor in the CEE real estate market through its market-leading positions both in Romania and in Poland. Globalworth invests, acquires, develops, and directly manages high-quality office real estate assets and industrial and logistics parks in prime locations, generating rental income from high quality tenants from around the globe. Managed by over 200 professionals across Cyprus, Guernsey, Romania and Poland, a combined value of its portfolio is €3.0 billion, as at 30 June 2020. Approximately 94.4% of the portfolio is in income-producing assets, predominately in the office sector, and leased to a diversified array of c.700 national and multinational corporates. In Romania, Globalworth is present in Bucharest, Timisoara, Constanta, and Pitesti, while in Poland its assets span Warsaw, Wroclaw, Lodz, Krakow, Gdansk and Katowice.
For more information visit www.globalworth.com