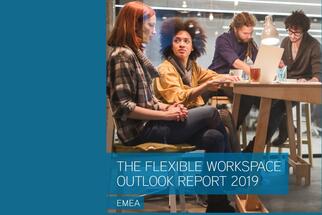 The number of flexible workspace operators across Europe has grown by 135 per cent over the last four years, with the number of flexible workplace centres increasing by 205 per cent over the same period. As the desire from occupiers for flexible office space shows no signs of diminishing, Colliers' research indicates that take up could double again over the next three years across major European cities. Of 22 major European cities analysed by Colliers International, eight will see flexible workspace double over the next three years; with Berlin, Bucharest, Munich and Prague amongst those expected to see the most growth.
"This could have a major impact on all EMEA markets, where the flex sector currently accounts on average for 1.5 per cent of the overall office market," said Tom Sleigh, Colliers' Head of Flexible Workspace Consulting, Occupier Services - EMEA. "We predict that supply of flexible workspace in the UK capital of London, for example, will continue to significantly increase over the next few years, growing to account for 10 per cent of the market by 2022 – this would mean that some 300,000 office workers could be working in new flexible and dynamic office space in the city within three years."
Colliers' report highlights how traditional landlords are responding to the market shift, where, particularly in London, some are establishing their own flexible workspace presence as seen with L&G and its Capsule, LandSec recently launching Myo and British Land's offering called Storey Club. Meanwhile, an increasing number of landlords are looking to share risk and upside through joint venture opportunities with the more established and successful workspace operators. Particularly those who can enhance tenant experience by delivering additional amenities and community to assets.
Tom explains: "Despite the low vacancy rates of office supply in London, occupiers are demanding more amenities and flexibility from their workspace which has resulted in a change of strategy from landlords, who have either launched their own flexible workspace brands or entered into JVs with established operators. This indicates that there could be additional capacity as space is carved out of the existing traditional office market to make way for the continued and growing desire from occupiers for flexibility. More choice and a wider variety of flexible workspace options offers increased choice for occupiers and should drive levels of utilisation, in particular from larger corporates who are actively embracing the benefits of flexible workspace.
"The shift towards 'space as a service', and not just a commodity is probably the biggest driver of growth in demand for flexible workplace going forwards. Customer centricity is at the heart of this and is likely to see flexible workplace continue to disrupt the status quo for some time yet."
Concerns over the 'excessive growth' of the flex sector, however, have been well publicised, with occupiers in certain business sectors remaining wary of overexposure to co-working, particularly in light of the prospect of economic cooling and diminishing levels of employment growth.
Damian Harrington, Head of EMEA Research & Forecasting, Colliers International, concludes:"It is clear to see how rapidly the flexible workplace niche has expanded since 2001 in terms of the number of sites, volume of space (sq m) and number of operators in situ across Europe. However, even at the top end of the spectrum, total take-up is marginal in comparison to the wider office market, suggesting the sector has not expanded to excess and there is still room for growth.
"The Polish flexible space market is growing at a very rapid pace. Across Warsaw the sector accounted for approximately 13% of the total office take-up in 2018. Warsaw offers almost 195,000 sq m of co-working and serviced office space. WeWork is the market leader in Warsaw, it operates five locations of almost 40,000 sq m and has announced opening five more in the next 18 months. Regus has been present on the Polish market for over a decade and now totals 24,000 sq m in 17 locations in Warsaw. They are also present in the other major regional Polish cities," said Michał Mierzwa, Associate at Office Agency in Colliers International in Poland.
"Further rapid growth of flexible workspace was observed in 2018. It offers an alternative to long-term lease for young entrepreneurs, start-ups and freelancers and more and more often for corporations. In Warsaw alone, 107,000 sq m was leased to operators, of which the majority (75% of the area) is located in central zones, where it is currently difficult to find office space for tenants. The vacancy rate in Warsaw is at the lowest level since Q3 2012. This supply gap, which is beneficial for landlords, will continue until 2020/2021. Leasing flexible workspace is one of the best ways to secure office in the city centre of Warsaw until the new wave of supply will be delivered to the market," added Michał Mierzwa.
Source: Colliers International