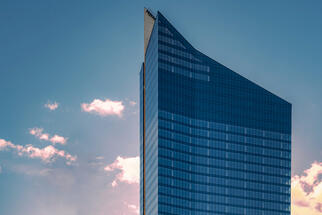 Falck is a Danish-founded company specializing in saving and improving the lives of people in need as an international leader in healthcare and emergency response. The Skyliner will become the new office for Falcks IT employees in Poland. Falck's IT employees in Poland will optimize, consolidate and streamline systems and develop innovative solutions for digital healthcare and emergency services. Falck has 80 IT employees in Poland, but the team is constantly expanding. Falck's IT employees in Poland will occupy nearly 1,500 sqm in the office building owned by Karimpol. The move to the new space is scheduled for the end of the year.
"The dynamic growth of our company motivated us to seek a larger and more functional space for our employees. Our aim is to provide our entire team with a comfortable, modern and inspiring working environment that fosters innovation. The choice of the Skyliner for our new office has many advantages. Its location is perfect, especially for people commuting by public transport or by bicycle. In addition, the area features lots of food options. As a Danish company, we place great importance on a holistic approach, which means that we create the best working conditions for our employees. We know that this improves their overall satisfaction and engagement," said Małgorzata Wiechowska, Office Manager, Digital Technology at Falck in Poland
"The Skyliner is much more than a building. It is a dynamic workplace that allows our tenants to grow and adapt their spaces to specific needs. High quality, timeless architecture and state-of-the-art energy-saving solutions are just some of the advantages of the Skyliner that attract companies from Poland and beyond. We are delighted that Falck is joining our tenant community as a company representing a new sector in our building and another tenant with Scandinavian roots," said Jarosław Prawicki, Executive Director at Karimpol Polska.
Falck was represented in the lease by Walter Herz and the building owner by the CBRE Poland team.
source:europaproperty.com