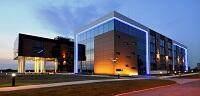 Deltamarin, a Finish consulting and design office for the marine industry, is relocating to a new, larger 1,000 sq m office in building B2 of BCB Business Park in Gdańsk. The tenant was represented by global real estate services firm Cushman & Wakefield.
Deltamarin provides services for marine and offshore companies, including shipyards, ship equipment suppliers, ship owners, marine suppliers and oil concerns. It has over 25 years of experience in marine engineering, ship design and specialist tooling solutions. In addition to Poland, Deltamarin is also present in China, Croatia and Finland.
"After more than six years of using several office spaces in building B1 we decided to move to the recently-completed building B2. As the new office occupies the entire lower wing of the building, we have finally accommodated all our employees in one space. We also have a more user-friendly and tailor-made work environment in the same location, which our employees have already become accustomed to," says Jadwiga Sztelwander-Zięba, General Manager, Deltamarin Poland.
"Cushman & Wakefield was engaged as an advisor to Deltamarin during their search for office space. Our team was responsible for the selection of the new location in Gdańsk and participated in negotiations of lease conditions with the property's owner. We are seeing a growing interest among international companies in the area near Gdańsk Airport, which is evidence of the increasing significance of Tricity as a long-term business location," says Daria Zagożdżon-Dembicka, Negotiator, Office Agency, Cushman & Wakefield.
BCB Business Park is a business centre in Gdańsk-Rębiechowo, in the immediate neighbourhood of Lech Wałęsa Airport, within an approximately 20-minute drive from the city centre. At full build out, the project will offer approximately 50,000 sq m of class A office space. Building B2 is the second of the five planned buildings of the complex. It was completed in 2017 and offers more than 9,000 sq m of office space.
Source: Cushman & Wakefield