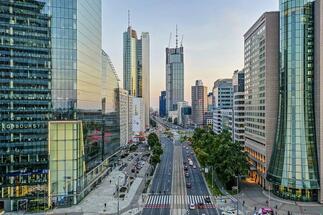 The 7,000 sqm lease that has been signed by the company with the Varso Tower's developer, HB Reavis, also means that its Warsaw offices will be its second largest in Europe (after London). The firm is to occupy floors 39 to 43 of the office tower, including a 250 sqm terrace at a height of 177m.
CMS was advised by JLL in the search for the premises and during the lease transaction process. Trzop Architekci will be responsible for the design of the offices, while JLL is also advising on the design and its functionality.
We have made an ambitious move and are looking to the future. We want to invest in innovation and attract the best talent in the legal services market. Until now, we rented an office of 4,500 sqm, and we decided to go for almost twice as much space. However, given the goal of providing the best conditions for growth, we planned for an office that will provide comfortable common space for the entire CMS team of more than 300 people. We want it to be one vibrant organism that takes into account our style of work and our culture.
Andrzej Pośniak, the managing partner of CMS in Poland
The 53-storey, 63,500 sqm Varso Tower, close to Warsaw's central station, is to be completed next year, with CMS to move into its new office in late 2022 or early 2023.