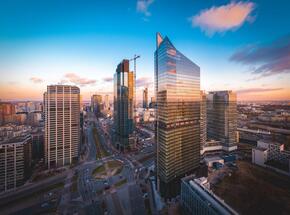 Capital.com is an investment platform that allows individual investors to participate in the financial markets. The company has offices in the UK, Gibraltar, Australia and Cyprus.
Capital.com has grown enormously in the last 18 months. Over the last two years, our employment has increased almost fivefold. We are proud to move into our new office in Warsaw's Skylineer, a modern building that is already becoming an icon of the city - emphasizes Jonathan Squires, CEO of Capital.com.
The tenant was represented in the transaction by Maxon Nieruchomości, while the Karimpol group was represented by the CBRE team.
The Skyliner office building is one of the seven tallest buildings in Poland and the latest investment of the Karimpol group. The lowest levels are dedicated to services, trade and gastronomic offer. There is a two-level Skybar at 165 m high. The building is equipped with the SkylinerApp building application, which, inter alia, replaces traditional access control cards and enables remote booking of desks, rooms and parking spaces. The Skyliner's five-level car park has 428 parking spaces, electric vehicle charging stations and 330 bicycle parking spaces.
Skyliner has a BREEAM certificate at the Excellent level and is 100% powered. from renewable energy sources. He obtained a certificate of innogy Polska SA from the E.ON Group confirming the purchase of a guarantee of origin for electricity from renewable energy installations.