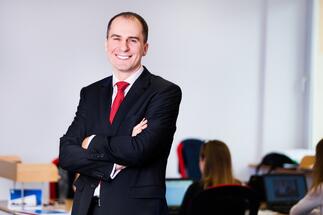 Investment and tenant representation lines in the strengthened teams
The advisory agency AXI IMMO, celebrating its 10th anniversary this year, strengthens its staff and expands its structures. Tomasz Marsz and Karol Gajewski joined the company's team.
We make every effort to respond to the growing demands of commercial real estate clients, therefore, on the occasion of the 10th anniversary, we decided to create a business line integrating activities in the field of corporate clients representation. I am pleased to welcome to our team two specialists which experience and wide market knowledge will contribute to AXI IMMO development – comments Renata Osiecka, Managing Partner at AXI IMMO.
Tomasz Marsz Corporate Clients Director
Tomasz Marsz, who has been appointed Corporate Clients Director in AXI IMMO, has 15 years' experience in the commercial real estate sector. At the new position in AXI IMMO structure, he is responsible for the development of cooperation with corporate clients, investment advisory and strengthening the work of AXI IMMO departments in providing combined services to international clients.
Tomasz Marsz started his career in the real estate sector working for foreign investors from Spain, Denmark and Switzerland, for whom he provided services including land acquisition and valuation, obtaining permits, development and disposal of assets. Then he worked on the office market and represented clients in lease and sale transactions. Prior to joining AXI IMMO, he managed the office department at BSC Real Estate Advisors (formerly Sharman Church). His clients include Burda Media, Copernicus Science Centre, McCormick, WilsonHCG, Squire Patton Boggs and many others. He is a University of Gdansk graduate, holds a broker license and CCIM certificate.
Karol Gajewski in the Office AXI IMMO department
Additionally, the Office department was strengthened by Karol Gajewski taking the position of the Senior Office Negotiator. He specializes in tenant representation and he gained 5 years of experience in Vertigo Property Group and Skywest, where he worked as a consultant. His client's portfolio includes Rockwool Polska, NEC, Pivotal and Zdrofit. He is a graduate of Management at the Kozminski University, he also studied International Business Management at the EDHEC Business School in Nice.
Source: AXI IMMO