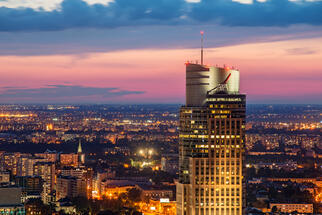 "The Polish branch of Avanssur is made up of an IT team numbering several dozen people, who are responsible for international programming projects for AXA's subsidiaries across Europe. We did take other buildings and places under consideration, but we came to the conclusion that the best decision would be to stay in our current offices, mostly because of their location and their ready access to public transport," says Piotr Kucharski, the director of the Polish branch of Avanssur.
"Warsaw Trade Tower stands out not only with its iconic architecture but also because above all it has a superb location, which is greatly appreciated by its current tenants and their workers. The modifications we are planning for the building in the near future are definitely persuading our tenants to stay in WTT. The renewal of our lease contract with Avanssur – as well as our agreements with other tenants – shows us that our strategy of modernising such a building as the Warsaw Trade Tower is right. It is one of the office blocks that symbolises Warsaw and is also our flagship property in the capital," says Anna Korwin-Kulesza, Senior Leasing Manager at Globalworth Poland.
For this transaction, Avanssur was represented by international consultancy Cushman & Wakefield.

"We are pleased that we were able once again to support Avanssur in their lease of office space. The decision to prolong the lease shows the importance of the location as well as its excellent access to public transport," says Marcin Miazek, Associate at Cushman & Wakefield.
During the negotiations, the owner of the building was represented by Colliers International.
Avanssur SA in Poland creates and develops IT platforms to sell and service insurance products including in the UK and France. The company uses agile software development practices. When given a large amount of freedom, employees are motivated, and their innovation and creativity are stimulated, which allows for flexibility in adjusting to the changing expectations of business partners.
Warsaw Trade Tower is a 42-storey office tower in Warsaw's Wola district and one of the highest skyscrapers in the city. In April last year, the property was acquired by Globalworth, the leading office investor in the Central and Eastern European region. The building includes over 45,000 sqm of office space with attractive communal areas for its tenants' use, most of which have already been modernised. Insurance company AXA has its Polish head office in the building, and so do companies such as American Express, Avanssur, Leroy-Merlin and Mattel. Tenants also have at their disposal 400 parking spaces. The building is on ul. Chłodna near the junction of ul. Towarowa and al. Solidarności as well as near the Rondo Daszyńskiego station on the second line of the Warsaw metro.
O Globalworth
Globalworth is a listed real estate company active in Central and Eastern Europe, quoted on the AIM-segment of the London Stock Exchange. It has become the pre-eminent office investor in the CEE real estate market through its market-leading positions both in Romania and in Poland. Globalworth invests, acquires, develops, and directly manages high-quality office real estate assets and industrial and logistics parks in prime locations, generating rental income from high quality tenants from around the globe. Managed by over 200 professionals across Cyprus, Guernsey, Romania and Poland, a combined value of its portfolio is €3.0 billion, as at 30 June 2020. Approximately 94.4% of the portfolio is in income-producing assets, predominately in the office sector, and leased to a diversified array of c.700 national and multinational corporates. In Romania, Globalworth is present in Bucharest, Timisoara, Constanta, and Pitesti, while in Poland its assets span Warsaw, Wroclaw, Lodz, Krakow, Gdansk and Katowice. For more information visit HYPERLINK "http://www.globalworth.com" www.globalworth.com