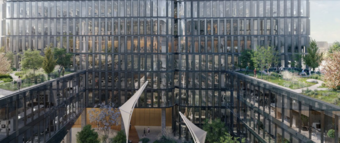 Key figures for 2020:
Estimated target value of investments launched in 2020. – 424.9 million euros
Sales transactions in 2020. – Equal Business Park in Kraków: buildings A, B, C (Apollo-Rida/Ares) and the sale of a 65% stake in Chmielna 89, Warsaw (Madison International Realty)
Sales transaction value – approx. EUR 206.5 million
Estimated target market value of the entire portfolio – EUR 1.15 billion
2020 tested the trading conditions of many companies and was a time of great challenge for the entire real estate sector. However, Cavatina Holding, for which 2020 was a record year, is an example of a company that operates well in economic headwinds and able to respond to challenges.
According to data from JLL, the first three quarters of last year saw transactions worth over 1.54 billion euros completed on the office market in Poland. Agreements on the sale of Cavatina's projects made up thirteen percent of the Polish office sector's total investment volume. In June 2020, it was announced that funds from Apollo-Rida Poland purchased buildings A, B and C in the Equal Business Park complex in Krakow, developed by Cavatina Holding. According to JLL, which advised the buyer, the deal was one of the ten largest office building sales transactions outside of Warsaw. In September, a fund managed by Madison International Realty, bought Catavina's 65% share of the Chmielna 89 office building in Warsaw.
Cavatina specializes in mixed-use projects and is very active in the regional markets. This is illustrated by the Group's operations, which are not only conducted in Warsaw but also in Bielsko-Biała, Gdańsk, Katowice, Kraków, Łódź and Wrocław. The group's multifunctional buildings are open to city districts and their communities, are very well located, and have an extensive residential function. A good example of this approach is the lease agreement signed at the end of December with ING Tech Poland, for more than 16 600 sq m in the Global Office Park complex in Katowice. It was one of 2020's largest transactions of its kind on the Polish market.
We focus on urban investments that combine housing, offices, services and culture because they are better designed, improve the functioning of a city and are very well received by local communities. Bearing in mind the challenges of this year, we want our projects to be distinguished by the quality of their architecture and include solutions that guarantee a higher standard of health and safety.
Daniel Draga, Vice President of the Management Board at Cavatina Holding
The future belongs to mixed-use
According to Cavatina, the future of Polish cities and the real estate sector lies in mixed-use developments, which would include apartments for rent. The Cavatina Group's portfolio already includes a number of such projects. In 2021, the company will be developing more schemes which will have diverse functionality that will be tailored to the needs of tenants, employees and local communities.
We believe that a significant residential element in mixed-use projects, which make up a sizable proportion of the Group's investments, will have a positive impact on Cavatina's office asset valuations. The rental housing segment, which the group also operates in, will help to realize investments that are both diversified in functionality and sources of income.
Daniel Draga, Executive Vice President at Cavatina Holding
In Poland, the institutional lease segment is only about 4-5 percent of the market. Globally, it is more than 25 percent. The development of the private rented sector will accelerate in 2021-2022, and lead to an increase in potential rental income and portfolio value. Cavatina plans to have a significant impact on this market by becoming an operator of more than 2,200 rental apartments, developing a modern platform and a centralized rental management system.
According to the company, the investments that will immediately commence have a great chance of success as they will very much suit the aspirations of the many companies planning new office work arrangements in modern comfortable conditions for the post-COVID era. The company has secured projects that will allow it to have one million sqm on its books by the end of 2025.