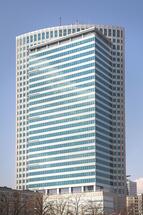 Chadbourne & Parke, jeden z pierwszych najemców Warsaw Financial Center, przedłużył na następne cztery lata roku umowę najmu 1250 mkw. powierzchni biurowej na 8. piętrze budynku. Ta międzynarodowa kancelaria prawna z główną siedzibą w Nowym Jorku ma biura na pięciu kontynentach.
Kolejny najemca to Korea Business Center, wydział handlowy Ambasady Republiki Korei. W tym przypadku przedłużyłono o 5 lat umowę najmu biura o powierzchni 400 mkw. na 21. piętrze budynku. Korea Business Center działa w Polsce od 1989 roku i zajmuje się szeroko rozumianym promowaniem polsko - koreańskiej współpracy ekonomicznej.
- Zaufanie, elastyczność i dopasowanie do potrzeb naszych najemców to elementy, które wyróżniają Warsaw Financial Center na rynku. Dzięki nim oraz oferowanym przez nas najlepszym możliwym warunkom, nasi partnerzy biznesowi mogą się spokojnie rozwijać. Nowe umowy podpisane z wieloletnimi i bardzo wymagającymi najemcami są potwierdzeniem tego, że znakomicie zlokalizowany Warsaw Financial Center pozostaje doskonałą alternatywą dla nowszych budynków – przekonuje Artur Lis, Asset Manager, Portfolio & Asset Management w Tristan Capital Partners.
Warsaw Financial Center, położony u zbiegu ulic Emilii Plater i Świętokrzyskiej, oferuje łącznie 50 000 mkw. powierzchni najmu klasy A+ oraz 350 miejsc parkingowych. Portfolio najemców WFC obejmuje ponad 60 polskich i międzynarodowych firm. Od końca 2012 roku WFC jest własnością konsorcjum Allianz Real Estate i Curzon Capital Partners III, funduszu inwestycyjnego zarządzanego przez Tristan Capital Partners.