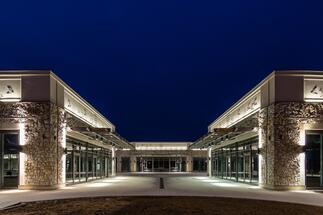 Plac Vogla zrealizowany został w kameralnym formacie lokalnego ośrodka handlu i usług, o ulicznym charakterze oraz parterowej zabudowie oferujący łącznie 5,2 tys. mkw. powierzchni handlowo-usługowej. Obok obiektu zaaranżowano plac zabaw dla dzieci. Do dyspozycji klientów Placu Vogla jest parking na ponad 160 aut. Obiekt jest także przystosowany dla rowerzystów. Deweloperem i inwestorem projektu jest firma Ghelamco.


"Plac Vogla to koncept usługowo - handlowy odpowiadający na potrzeby mieszkańców Wilanowa i okolicznych miejscowości. Jest to jedyne tego typu miejsce na wschód od ulicy Przyczółkowej w Wilanowie i ma ogromny potencjał by poprzez swoją ofertę stać się alternatywną ofertą do spędzania wolnego czasu dla osób mieszkających w pobliżu. W kontekście tego projektu, warto zauważyć jak ewoluowało podejście do projektowania obiektów handlowych. Obecnie centra handlowe to nie tylko miejsca zakupów, ale również miejsca odpoczynku, spotkań z przyjaciółmi czy alternatywa na spędzenie czasu z rodziną. O te aspekty muszą zadbać deweloperzy, którzy chcą stworzyć koncept odpowiadający potrzebom konsumentów. Jestem przekonany, że Plac Vogla to miejsce, które dzięki dopasowanej ofercie będzie uzupełnieniem niszy handlowej na warszawskim Wilanowie."
Piotr Karpiński, Dyrektor w Dziale Asset Services, CBRE.
Do najemców Placu Vogla należą Delikatesy Alma, sklep wielobranżowy Pepco, drogeria Rossmann, Cosmedica, salon optyczny Optyk Tondryk, biuro podróży Active Travel, salon fryzjerski Lok&Roll, pralnia ekologiczna Lemon Fresh, sklep mięsny Wierzejki oraz Owoce i Warzywa Świata.
źródło: cbre.pl