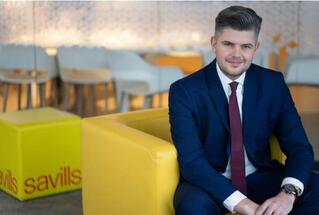 Total Warsaw office supply at the end of December 2019 stood at almost 5.6m sq m, rising by 162,000 sq m located in 17 office buildings during the 12-month period, Savills reported. The largest new addition to the market was Wola Retro (24,500 sq m).
At the end of 2019, the construction pipeline included 793,000 sq m, out of which 437,000 should receive the occupancy permit in 2020, including high-rise buildings like The Warsaw HUB, Mennica Legacy Tower, Widok Towers and Skyliner. 69% of the expected new supply in 2020 is already pre-let.
"Warsaw's skyline is changing literally before our eyes. 2020 will be a breakthrough as many of the tower cranes we observe in the city centre and in Wola district today will turn into spectacular skyscrapers. The reason behind development keep booming is very strong demand for the office space, which is a sign of a healthy market," - says Daniel Czarnecki, Head of Landlord Representation, Office Agency, Savills.
According to Savills data, take-up for 2019 reached 878,000 sq m, which is the highest level in the Warsaw's history (up by 2.2% comparing to 2018). It was a year of big transactions. 12 lease agreements signed in 2019 have exceeded 10,000 sq m. Demand for modern office space in Warsaw was driven mainly by banking and financial sector including the largest transaction signed by mBank (45,600 sq m in Mennica Legacy Tower).
Net absorption continues to outpace supply of office space in the capital city of Poland. This translated into a decline of the vacancy rate by a further 40 basis points (bps), hitting a new record low of 7.8% since 2012.
As stated in "Office market in Warsaw" research by Savills, in CBD and City Centre prime rents are unchanged since Q1 2019 and range from EUR 22.50 per sq m/month up to EUR 25.50 per sq m/month in top floors in tower buildings. In Służewiec, the largest non-central office zone, rents have remained stable and range between EUR 13.00 and 15.00 per sq m/month.
"Despite such impressive pipeline, the level of pre-let space is high. As a consequence, large tenants currently looking for an office space in CBD still have limited number of choices. Soon, after tenants will move to new developments that currently are under construction, landlords of older buildings will have to double their efforts to successful recommercialize the space, which definitely will be one of the main challenges for the market in coming months" - summarises Daniel Czarnecki, Savills.
Source: Savills