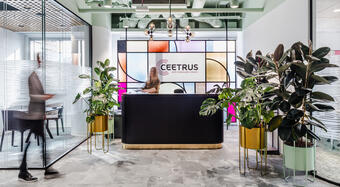 The aesthetic and functional design of the office were inspired by the mid-century modern style. A meeting place has been created that combines a cosy atmosphere with a business image.
According to the Activity-Based Workplace concept, the office favours various employee activities. Common areas occupy about 35% of the entire office. These are informal workplaces of various sizes, semi-open and closed meeting rooms, and relaxation areas. The work zones are transparent and functionally divided. Each open-space dedicated to a given team is adjacent to two meeting rooms and a study room. The reception divides the space and is a meeting point for employees and clients. Around it, there are four large conference rooms, including two connected by a mobile wall.
Right next to the reception is the "heart" of the office. This is a co-working zone combined with a dining room, kitchen and bar. Here, larger business meetings and employee events take place. It is a place of meetings and free exchange of ideas, constructed in accordance with the company's slogan "with citizens, for citizens". Employees can have a coffee, play pool, work, have a conversation, or just relax. This zone is 16% of the entire office space. Such a large, multi-functional space is a catalyst for creativity. It helps in building personal ties between employees that are so important in modern business culture.
The new Ceetrus Poland office is located in the International Business Center building at Polna 11 in Warsaw.
Source: Ceetrus