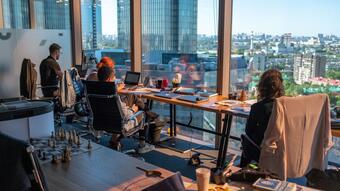 Slightly more than half of the companies (56%) are currently developing a formal policy of returning to offices, where the home office does not dominate. The rest (44%) so far rely on managers 'decisions or observe employees' behavior before finally writing top-down policy.
We are currently in the process of transformation. We observe various approaches in companies. Some decide to implement universal procedures that oblige everyone to follow them. Others treat the process of returning to the office as a transitional stage, allowing the observation of actual needs, so that the target rules are adjusted to the preferences of different employees. There is no doubt that the final decisions should satisfy both the interests of building a community, cooperation and effectiveness of activities, as well as the expectations of employees. And these have changed significantly under the influence of the pandemic - explains Małgorzata Niewińska, head of the work environment and change management department at CBRE.
Companies that decide to impose the framework of hybrid work on their employees have their patents for it. Almost half (43%) will choose zero autonomy, where employees will be forced to come to the office a predetermined number of days a week. Others offer some degree of autonomy, but opinions as to what the scope should be are divided: 33 percent. it will allow you to make a team decision about the frequency of appearing in the office, and one-fifth does not plan to require a defined frequency of visits and will allow employees freedom.
Companies, although they want to take into account the preferences of employees, will nevertheless strive to maintain a balance between work time spent in the office and at home. Half of the companies (51 percent) aspire to evenly distribute working time between the office and home office, 38 percent. wants employees to appear in the shared space at least three times a week. Only 12 percent declare total remote work. enterprises. These are mainly companies whose specificity of work allows it. It goes, among others o selected IT, marketing and communication companies. Interestingly, less than a third of companies offer home office equipment with the necessary equipment.
On the one hand, this may be due to the fact that companies at the beginning of the pandemic provided the right tools for remote work and now have no plans to repeat it. Although in my opinion it is worth revising this topic. We know that organizations focused on maintaining business continuity have generally failed the test of caring for their people during a pandemic. Providing this comfort in every dimension, from access to technology, arrangement of the work space, to the culture and quality of relationships, is crucial. Especially if we want to build a healthy work environment in which you want to be and which will be attractive to talents - says Małgorzata Niewińska.
One of the positive aspects of the pandemic is that corporations have come to the conclusion that the old office rules are no longer valid, so a new work environment strategy needs to be written. 63 percent of companies indicate that the key is to increase the space for collaborative work, and half of them will look at new solutions in the field of design. 36 percent will focus on increasing facilities for employees at the workplace, and 31 percent. it will provide more open space that fosters integration.