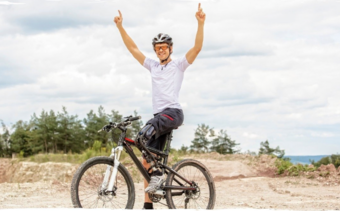 "The route will be quite diverse - mainly asphalt, but with gravel, sandy and rocky parts. The pace and daily mileage will certainly not exceed the capabilities of an active person" says Kamil Bąbel from the Poland Business Run Foundation, the organizer of Adaptive Bike Challenge.
"We decided to provide financial support for the Adaptive Bike Challenge because sport is one of the most natural ways of bring people together in doing good, regardless of gender, age or disability. This is not the first time the two foundations have cooperated. For the second year in a row, we have acted as a partner of the Poland Business Run charity relay race, which has become very popular across the whole country. In the last two races we entered 30 employees of Globalworth Poland in the competition," says Georgiana Iliescu, the Executive Director of the Globalworth Foundation.
The Adaptive Bike Challenge is a chance for some real adventure for people with physical disabilities who like to spend their time actively and outdoors – and who are no strangers to recreational cycling. Each day, the cyclists will cover approx. 50 km, which in total means riding for 3 to 4 hours. Scheduled breaks will take place along the route, including visits to castles in the Jurassic Upland between the two cities.
The cyclists will also be travelling over a variety of surfaces: mainly tarmac, but also gravel, sand, and stony sections. The pace and daily mileage will not be any more than the capabilities of any active person. All you need to take part in the trip is to bring your own bike and helmet. Handcycles are also welcome. The event starts in spring 2020.
More information about the Adaptive Bike Challenge and pre-registration can be found
at: HYPERLINK "https://polandbusinessrun.pl/pl/active/adaptive-bike-challenge" https://polandbusinessrun.pl/pl/active/adaptive-bike-challenge
About the Globalworth Foundation
The Globalworth Foundation was established in 2018 by Globalworth, the leader of office building market in Romania and Poland, and it is a non-profit entity, as it is independent of the commercial activity of the group. The mission of this foundation is the development of projects on three main pillars: people, places, and technology.
Starting from the idea that the future of any society is represented by the young generations, the foundation focuses on the care for people, which can be supported through educational programs and projects that can improve access to high-quality medical services, regardless of social class. Initiatives that aim to build places and develop urban communities where people can meet, interact, and find solutions for the disabled are just as important. Additionally, the Globalworth Foundation believes in the positive impact of projects which integrate technology, such as incubators dedicated to young people, and supports financing of innovation which can lead to bringing people together, among other things.