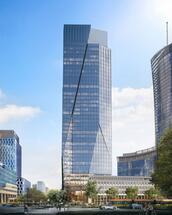 Currently, the construction of the underground part of The Bridge is underway. Ghelamco specialists carry out the works using the ceiling method. This technique is one of the most complicated, but also the safest. The upper ceilings are made and excavated, then the lower ones, up to the foundation slab of the skyscraper. Vertua low-emission concrete was used for its implementation. The product supplied by Cemex allows for a significant reduction in carbon dioxide emissions compared to the reference concrete, thus reducing the carbon footprint of the building under construction.
We are building the most technologically advanced and ecological skyscraper in Poland. This is already confirmed by the prestigious SmartScore and WiredScore certificates received in June, which we were the first in Central and Eastern Europe to obtain, obtaining the highest possible score. Our project will connect the future with the past, offering tenants a unique atmosphere and, at the same time, the most modern solutions that may be available in the office building - says Jarosław Zagórski, commercial and development director at Ghelamco Poland.
The 40-story building will be connected to the former seat of the Bellona publishing house. The expected completion date for the construction of the skyscraper, designed by the Dutch architectural studio UNStudio, is the first quarter of 2025. The Bridge will offer future users a total of 47 thousand. sqm office space, and on the 40th floor of the skyscraper there will be a terrace for the exclusive use of the tenant. The building will be equipped with approximately 280 parking spaces, including electric car chargers, as well as a special parking lot for electric two-wheelers - bicycles and scooters - with 31 charging points. Cyclists will be able to use almost 150 places for bicycles and changing rooms with showers.