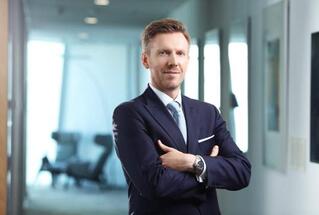 Savills has prepared a preliminary summary of Poland's commercial property market performance in 2019 and an outlook for the next 12 months. Savills estimates that this year's total investment volume in Poland is likely to surpass EUR 7 billion, which would be close to or above the level posted in the peak year 2018. According to Savills preliminary data, approximately 745,000 sq m of office space was delivered to the market in 2019, bringing Poland's office stock to 11.1 million sq m. Poland's retail stock now stands at nearly 12.4 million sq m following the completion of approximately 315,000 sq m of retail space in 2019. The past 12 months also saw 2.7 million sq m of warehouse and industrial space come on stream, which brought the nation's total stock to 18.4 million sq m.
2019 was another year of robust investment activity, driven, among other things, by CEE and Asian investors showing signs of increasing willingness to acquire properties in Poland. The past 12 months also witnessed two record lease transactions on Warsaw's office market: mBank for 45,600 sq m in Mennica Legacy Tower and the renegotiation by Orange Polska of its lease agreement for 44,850 sq m in Miasteczko Orange. 2019 was also a year of new asset classes including in particular purpose-built student accommodation and private rented housing, with demand for alternative properties outstripping supply. According to Savills analyses, in 2019 we also saw the emergence of new warehouse locations and a wave of refurbishments of ageing office and retail schemes.
"Polish commercial properties continue to attract both investors and occupiers as they constitute an attractive market for business development and offer higher yields compared to Western Europe. Overseas investors remain dominant market players in Poland, with Asian and CEE investment funds being very active. However, labour availability issues and potential economic swings, especially the deteriorating health of the German economy, appear to weigh on the positive market sentiment," says Tomasz Buras, CEO, Savills Poland.
2020 is shaping up to be a year of concerns about the effect of a potential global economic slowdown on the real estate market. Although signs of an economic downturn were broadly anticipated in 2019, the Polish commercial real estate market maintained a strong momentum in the past 12 months. The inevitability of the economic cycle may, however, result in an increased aversion to risk among investors and a wait-and-see approach.
According to Savills, 2020 will also see the delivery of spectacular office towers (The Warsaw HUB, Mennica Legacy Tower, Widok Towers, and Skyliner) and the completion of several long-awaited mixed-use projects, including Browary Warszawskie and Elektrownia Powiśle. Trends anticipated by Savills for the coming months include the growth of urban logistics that will help cut delivery times in the face of e-commerce expansion, and the focus on PropTech and sustainability. Demand for alternative asset classes could fuel, among other things, the development of senior housing.
"It was a good year for alternative assets. It is the office sector, however, that continues to dominate the commercial real estate market. Occupier demand for office space remained very robust in recent months. Next year is likely to be a moment of truth for serviced offices and co-working space operators and this sector will be put the test in terms of the market's absorption capacity and real demand for flexible office space," concludes Tomasz Buras.
Source: Savills