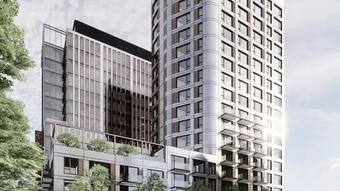 he obtained permit is the next stage of the investment and does not automatically start construction. Further market analysis will provide an answer when the project will receive the green light for implementation, although its shape is already known.
The new buildings will be built in the northern part of the centre and will reach a height of just over 50 meters, corresponding to the height of the last investment, Olivia Prime. The first residential building in Olivia, whose working name Olivia Nord is related to the fact that it will be the northernmost building in the centre, and will provide the function of a long-term institutional lease. This increasingly popular rental formula provides residents with the opportunity to occupy the premises for many years, but also to use standardized services and additional services, unavailable in the case of private rental. On the other hand, the direct location next to the office centre calms down the traffic in the area and revives the urban fabric for the benefit of the entire district.
On the 4th floor of the building with the working name Olivia Nord, a terrace will be arranged, which will serve as a public open space. It will be filled with numerous plants and resting places. 151 apartments of various sizes will be available in the building. The residential part will reach 17 storeys, while the second building will reach 15 storeys, offering 20,000 sqm of office and service space. The difference in the number of floors is due to the different height of the premises, although the height of both buildings is the same. The award-winning design studio Design Anatomy will be responsible for the interior design, which in its portfolio has designed the interiors of the 32nd and 34th floors of the Olivia Centre, over 100,000 sqm of offices and apartments in the @Home and Olivia Home projects.
Source:property-forum.eu
The international architectural office Epstein is responsible for the design of the latest buildings, which in the world implements such facilities as the O'Hare International airport in Chicago, and in Poland Varso, Chmielna 89 or Mennica Legacy Tower. Paweł Kochanek, a senior designer from the Epstein office, who works on the Olivia Nord and Olivia Nowa project, describes: "The building complex consists of two free-standing forms connected with each other by a podium. They are adjacent to a common atrium containing a public space with greenery arranged for public and service functions. The architectural form crowns the urban layout of the existing form of Olivia Center from the north. On the ground floor level, the entrances to the buildings are spatially connected with roof elements in the form of a "meander" stretching with breaks along the façade up to their southern corner."
In the existing buildings of the centre, there are already 12 restaurants, numerous service outlets, a bakery, a two-story fitness centre, a pharmacy, two medical centres, and an exotic Olivia Garden open to the public, where 3.5 thousand beds have been prepared for guests. plants reaching up to 11 meters in height, representing over 400 species and coming from 5 continents, as well as event and conference centres that can accommodate up to 1,000 people in total. For the implementation of such directions of development, Olivia wins numerous awards and distinctions, and the proof of its openness to tourists and residents is the award of the Marshal of the Pomeranian Voivodeship awarded on the occasion of the International Tourism Day in 2020,