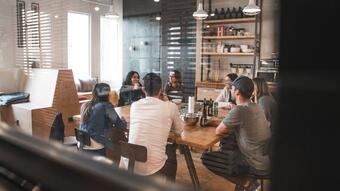 More and more organizations partially return or plan to return to the working model from the office, but the further development of the pandemic and the pace of vaccination will have a key influence on the decisions made. Until the situation stabilizes, i.e. the threat caused by the coronavirus pandemic completely ceases, the number of office workers will probably be quite limited - estimates Krzysztof Misiak, head of Cushman & Wakefield in Poland.
Office space, even more than before the pandemic, should serve employees, encourage teamwork, support building relationships and organizational culture.
The effectiveness of work in teams and the exchange of knowledge between employees are more effective in direct contact. I am sure that both the market and organizations, managers and employees will sooner or later adapt to the new reality, and the traditional work environment will continue to play a key role in the entire office ecosystem, sums up Krzysztof Misiak.
After more than a year of working remotely, employees agree that the role of the office is starting to change. In the era of limited interpersonal contacts caused by a pandemic, new models of work are also consolidating. Employers prefer the stationary system to the remote one, but in order to implement it - with simultaneous care for employee satisfaction - they must modify the office space. 86 percent professionals and managers expect offices to become more flexible and to provide spaces tailored to their tasks. Compared to the 2020 report, there is a significant increase in interest in such spaces.
The lack of direct contact is seen as the biggest disadvantage of the remote model. Even though online meetings are becoming more and more popular, the lack of "live" interaction is still being felt. This is evidenced by the results of the survey - 59 percent. of respondents indicate that the office is the preferred place for group brainstorming, and 54 percent. specialists and managers would like the teamwork to take place in the office, in an open space arrangement.