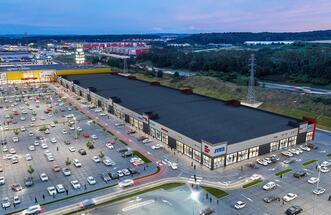 Zoo Karina will open in late July or early August once the fit-out works have been finalized. The store will be located in the new building completed earlier this year, following the extension of Morski Park Handlowy. The new building is already home to Bel-Pol and four different stores of the Komfort Group - Floors, Kitchens, Bathrooms and Nexterio.
Zoo Karina is a family company established by Karina Wojtyłko. It opened its first store in Gdynia in 1996. The retailer now has a network of more than 20 locations, mostly in the Pomeranian region.
"We are pleased to welcome Zoo Karina at Morski Park Handlowy - a well-recognised leading local retailer, who is very active in the northern part of Poland. New brands were recently added to the tenant-mix of the retail complex following its extension, which were met with a very positive response from customers," says Marta Mikołajczyk-Pyrć, Head of Retail Property Management, Savills.
Morski Park Handlowy is located on Przywidzka Street in Gdansk. The extension of the complex increased its total floorspace to over 41,000 sq m. Its tenants include among others DIY store OBI, Carrefour hypermarket, McDonald's and Jula. Other facilities at the retail park comprise of Designer Outlet Gdansk and furniture store Agata. The owner of Morski Park Handlowy is GRP. Savills is the property manager and retail space leasing agent on the scheme.
Source: Savills