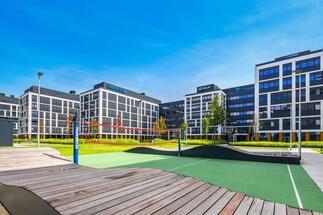 Fair Play is Poland's largest network of private crèches and kindergartens. It has close to 40 facilities focused on developing sports and language skills in 12 cities across the country. Business Garden Wrocław will provide two crèche rooms and two kindergarten rooms for a total of about 70 children. The admissions process started in early June. Opening hours will be suited to office hours and the facility will operate between 7am and 6pm five days a week.
"We decided to open another branch in Wrocław in response to strong interest in our other facilities and the positive feedback from parents. We provide sports and language classes every day and a wide range of other attractions such as dog therapy sessions or sensory play activities," says Natalia Skrzypacz, the owner of Fair Play in Business Garden Wrocław.
With 117,000 sq m of modern office space, Business Garden Wrocław is the largest office complex in Wrocław. The first phase of the development, where the Fair Play kindergarten will open, comprises 38,700 sq m.