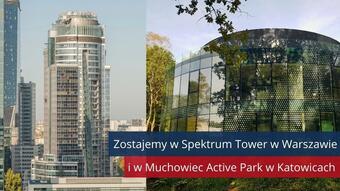 From June 2016, the office in Spektrum Tower at ul. Twarda 18 serves as the headquarters of Axi Immo. In the office space, it was decided to combine an open plan with offices for quiet work, as well as with two conference rooms. Employees can use all the amenities of the Spektrum Tower, including: restaurant, canteen, medical center and 24-hour fitness area.
Axi Immo Group's headquarters in Spektrum Tower is a key place for our business development. This is where the most operational departments of the company are located and strategic decisions are most often made. While maintaining the current size, we managed to achieve the expected flexibility, which is the foundation for the introduction of the hybrid work model - explains Renata Osiecka, managing partner, Axi Immo.
Spektrum Tower is a 32-storey skyscraper offering over 32,000 sq m. sqm of office space owned and managed by Globalworth. Spektrum Tower has a BREEAM certificate at the Excellent level and is 100% powered. energy from renewable sources.
The Silesian headquarters of Axi Immo is the main operational center for the southern regions of Poland. After the expansion, the regional branch will have an area of ​​120 sq m. in the Muchowiec Active Park office building. This investment is located near Dolina 3 Stawów in the Muchowiec district in the center of Katowice.
The Silesian office provides adequate visibility in the south of Poland. The expansion of the office allows the Axi Immo brand to develop a strong representation of local experts, explains Anna Głowacz, director of the Logistics and Industrial Agency Department and director of the Katowice office.
During the Covid-19 pandemic, offices in Warsaw and Katowice were modernized to ensure an appropriate level of security for employees, customers and guests.