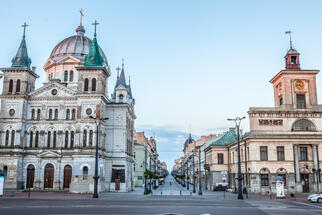 The existing state of the market equilibrium will probably change in the coming months with the delivery of several new office projects which still have considerable volumes of vacant space.
Łódź continues to attract tenants who in the current market situation are able to secure more favourable lease terms. In addition, the growing competition is forcing the owners of older office buildings to increase capital expenditure to retain tenants – says Marta Pyziak, Head of Łódź Office, Cresa Poland.
The first quarter of 2019 saw only one completion: Sepia Office (2,300 sqm, OPG Property Professionals). Another 60,000 sqm is expected to be added to Łódź's office stock by the end of this year.
Take-up in the first quarter of 2019 reached 15,100 sqm, up more than 50% on the first quarter last year. New leases accounted for half of the leasing volume, with renegotiations and expansions making up 43% and 7%, respectively. The largest transaction was renegotiation and expansion of Flint Group in Łódź I Infosys office building (3 350 sqm.).
Office absorption hit 9,800 sqm in the first quarter of 2019, up by more than 10,000 sqm on the previous year's level. By comparison, quarterly absorption in the years 2017-2018 averaged approximately 11,000 sqm. As on most markets across Poland, absorption in Łódź is expected to remain on a growth path but will be below developers' expectations – says Bolesław Kołodziejczyk, PhD, Head of Research & Advisory, Cresa Poland.
The city's vacancy rate stood at 7.0% at the end of the first quarter, down by 1.7 pp on the previous quarter and down by 2.6 pp compared to where it was a year ago. Asking rents currently stand at EUR 11-14 sqm/month in upper class buildings, and EUR 7,5-9,5 sqm/month in lower class buildings.
Source: Cresa