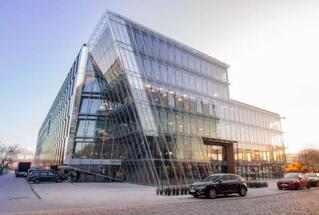 Equiniti is an international technology-led services and payments specialist. It is listed on the London Stock Exchange and is a constituent of the FTSE 250 Index. In Poland, it set up EQ Tek, a digital experience centre which will develop best-in-class applications and product delivery systems across all divisions of the business.
"Krakow is an excellent location for IT companies, including Equiniti, which was attracted to the city by its access to skilled labour and high-quality office space. The tenant has just moved into the office that provides a very comfortable work environment and facilitates employee recruitment," says Agnieszka Kuehn, Senior Consultant, Office Agency, Savills Krakow office.
Equal Business Park C, the largest building of Equal Business Park, has increased the complex's total area to 50,000 sq m. The third phase of Cavatina Holding's project was completed in late 2018. The building boasts an outstanding design and offers more than 23,000 sq m of modern office space. As Equal Business Park is being increasingly recognised as a major complex on Krakow's office map and is attracting strong occupier interest, a decision has been made to build its four phase. Construction of building D, which will deliver 11,000 sq m of new office space in 2020, is expected to begin shortly. The developer and the general contractor of Equal Business Park is Cavatina Holding. The landlord was represented in the transaction by Knight Frank.
"Equal Business Park C is now fully let following the lease signed with Equiniti. The next phase of the project that is currently in the pipeline will enable both Equiniti and other tenants of the complex to expand freely and will provide space in which to grow further," says Daniel Draga, Management Board Member, Chief Financial Officer, Cavatina Holding.
Source: Savills