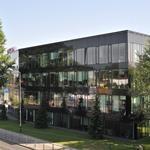 Diamante Plaza was commissioned in December 2009. It provides nearly 11,000 sqm of modern office space across 4 storeys. The building is characterized by wide access to the city infrastructure and good communication: in the vicinity, there are bus and tram stops, as well as a bicycle path allowing for a quick access to the City Centre, the Main Railway Station and nearby districts. The Zabłocie railway station is also located close by.
"We are satisfied with the transaction. Due to the broad knowledge of the experts from BNP Paribas Real Estate Poland, we could reliably assess whether the property is a good investment product," said Tomasz Doktór, Director, Catalyst Capital.
Catalyst Capital is a fund that can certainly be counted among the top investment players. We are all the more pleased that the client has chosen our team as his commercial advisor. We have contributed our knowledge and experience not only in the purchase process itself, but also during the organization of financing. BNP Paribas Bank Polska refinanced the property in parallel with the purchase process," said Dr Piotr Goździewicz, MRICS, Head of Capital Market, CEE, BNP Paribas Real Estate Poland.
The Diamante Plaza building is well-known to BNP Paribas Real Estate Poland experts, who have been the exclusive agents of this asset since 2017. The process of releasing the office space conducted by them has been successful.
Kraków is the largest regional market, which enjoys growing interest, not only on the part of investors but also of new tenants. Office premises meeting the highest standards and modern technical solutions applied in the facility are just some of the advantages that make Diamante Plaza enjoy constant interest of tenants and is fully leased. Additionally, the building is perfectly located in the dynamically developing, post-industrial district of Zabłocie," added Agata Szymczak, MRICS, Senior Consultant, Capital Markets, BNP Paribas Real Estate Poland.
Source: BNP Paribas Real Estate