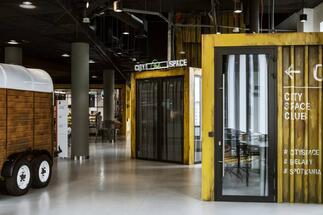 CitySpace offers to lease desks in ten locations in Poland - in Warsaw, Wrocław, Gdańsk, Katowice and Kraków. Recently, the company has opened three offices in Galeria Młociny in Warsaw, the Moje Miejsce office building in Mokotów and in the third building of the O3 Business Campus office complex in Kraków.
'We are growing at a fast pace that is imposed by the market and customer demand. Due to our clients' strong interest in flexible office spaces in October we started operating in two new locations and expanded the occupied space at the O3 Business Campus in Kraków. As a result, we grew 40%. Today, we can offer ten different locations in several major cities for developing companies, startups and corporations that have just started to organize their operations in Poland. Our clients can choose between modern coworking with a unique meeting area in Galeria Młociny's industrial containers, private, well-equipped offices in the Moje Miejsce building in Warsaw, modern working space in O3 Business Campus in Kraków and other places with the most favourable locations, standards and conditions. We manage flexible serviced offices with a total area of ​​nearly 17 thousand sqm, where almost 1.5 thousand workplaces are placed. Following the development of our network, the convenience of tenants, the finishing quality and standards are also improved. We are working on it, among others with the renowned architecture studio Medusa Group or the creative agency E1 Collective', says Sebastian Rączkowski, managing director of CitySpace.
The Medusa Group has designed Beethoven CitySpace Club in Moje Miejsce and Galeria Młociny, as well as a new office in O3 Business Campus. CitySpace's offices are provided with the best air conditions, perfect soundproofing and lighting of rooms, advanced IT systems, the safest servers and the full service. Several dozen companies, among others from financial, real estate and pharmaceutical industries are currently clients of the provider.
'Our current office in the O3 Business Campus complex was not enough for the needs of our tenants, that is why we have decided to expand the leased space. During the expansion, we improved finishing standards and created a space there to support networking, cooperation and creativity. We have believed in the potential of Młociny CitySpace Club and Beethoven CitySpace Club and at the launch of both offices we can notice a great interest of prospective clients. We try to combine functionality, ergonomics and great design in all our offices', adds Sebastian Rączkowski.
Through observing the needs of tenants, CitySpace focuses on looking for new locations in major Polish cities, in central or well-connected areas. In 2019, the provider, in addition to three offices launched last month, also began its operating in Aquarius Business House in Wrocław. The company plans to enter also to the Łódź market in the near future.
Source: Echo Investment