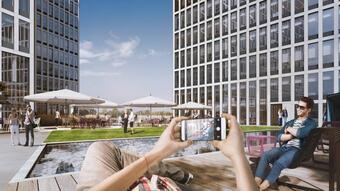 According to the agreement, Bank Pekao granted Echo Investment nearly EUR 65 million in a construction and investment loan and PLN 18 million in a VAT loan. The total financing period ends on 31st December 2023.
"Quick commercialization of the first office building and the strong interest of tenants in the second building confirm the business potential of Katowice, as well as the good brand of Echo Investment and the excellent location and the quality of the project. We are happy that Bank Pekao also believes in its success and through its financial participation supports us in developing a new part of the city and building up a perfect space for cooperation and taking up day-to-day professional challenges. Bank Pekao is our long-term partner financing development projects - for example, the construction of Villa Offices and Malthouse Offices in the Browary Warszawskie complex, for which we received a loan in April 2019" says Maciej Drozd, Vice-President of the Board, CFO at Echo Investment.
Construction works on the plot at Grundmana street are in line with assumed timetables. In July, the first building will reach its peak height. Elevation, roofing, installation and partly finishing works are carried out in the office building. The advanced level of the lease and the interest of subsequent companies contributed to the fact that in the fourth quarter of 2018 Echo Investment started the construction of the second phase. Works on foundations are currently underway. Tenants will move into the first Face2Face building in the fourth quarter of 2019, while the second building will be ready a year later. Ultimately, approximately 5,000 people will be employed in both buildings of the complex.
Face2Face Business Campus is another - after A4 Business Park - office complex developed by Echo Investment, which is being built in Katowice. It consists of two office buildings – a 7-storey building with an area of 20,000 sqm and a 15-story tower with an area of 26,000 sqm. The distinguishing feature of this project is multifunctional and non-standard land development outside, where among other, a basketball court, a lunch zone or a relax zone will be placed. Open and engaging spaces that support integration and community building are an important element of Echo Investment's projects.
Source: Echo Investment