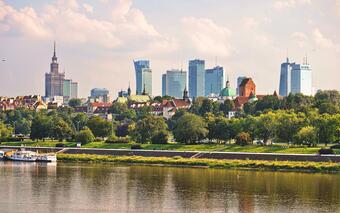 Warsaw is still the main investment destination in the sector of office properties in Poland. In the blink of an eye, the view of the city gains new skyscrapers and there are plenty of people willing to rent office space. According to reports on the development of the real estate market in Poland at the end of 2018, there were over 5.4 million sq m of modern office space in Warsaw. It is hard to estimate accurately the number of offices created in townhouses and private apartments while many enterprises decide to do so. Why? Let's think about it!
OFFICE IN KAMIENICA IN WARSAW – COST-BENEFIT ANALYSIS
Undoubtedly, renting an office in an old tenement house has its advantages. In addition, if it is a renovated building, the great advantage is certainly the atmosphere that working in an apartment with history brings. Small and medium-sized companies also focus on the financial aspect - renting an office in a tenement house is a much smaller burden on the company's budget. The decisive advantages are also uncomplicated lease agreements, low deposits and rental for an indefinite period with the possibility of termination without any contractual penalties. Another advantage is the convenient location of the office. Usually old tenement houses are located in the most attractive places in the city – e.g. in the Old Town, where our eye will not notice modern office towers.
However, it is also worth considering the disadvantages of renting offices in a tenement house. The biggest loss of such a solution is the problem with parking spaces. There are few or none at all and they are reserved for residents of the building. This is the biggest loss compared to the office in a modern office building, which has an underground car park. Another shortage when renting an office in a tenement house is often the lack of air conditioning, no possibility of adjusting the layout of the rooms according to own preferences as well as lack of protection and supervision of the building. Also, the downside is often a lower standard of the building itself and the problem with organizing renovation.
Thus, does renting space in an office building have only advantages?
OFFICE IN A MODERN TOWER IN WARSAW
Naturally, renting an office in a modern skyscraper brings a great number of advantages. The largest ones are not only safe contracts without the possibility of termination overnight, but also the possibility of arranging office space in accordance with your preferences. For the first tenants there is often a chance to consult with the investment designer and change the location of the rooms as well as an opportunity to determine their size. Large companies choosing a long lease period also have the chance to negotiate an attractive period of the so-called "free lease". Additionally, the office buildings have 24/7 security, monitoring, reception, service, cleaning and organization of repairs outside working hours. Another strength is the space for employees, the possibility of creating open space or large conference rooms with good acoustics and audio equipment. Many companies also value having neighboring businesses of which services they can use immediately.
Obviously, you can find cons in each solution. The main disadvantages of renting an office in an office building include very high guarantee fees (bails), which often amount to no less than three month's rent with additional operating costs and parking charges. For some companies, the financial challenge may also turn out to be contracts that are signed for longer periods - it's often at least 3 or 5 years. In connection with penalties for breaking contracts, it sometimes happens that a company deciding to rent space in an office building must show financial stability.
One thing is clear, both dynamically emerging office buildings and historical Warsaw tenements find their supporters. With appropriate arrangement and adaptation of the rooms, both types of buildings can turn out to be a great place to work.
Source: Forbis Group