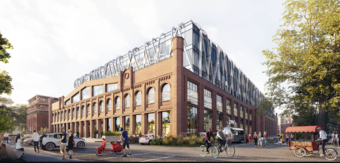 Currently, there are four buildings in Widzewska Manufaktura, all entered in the register of monuments as an urban complex of post-industrial Łódź. Thanks to the reconstruction, this area will join the group of the most spectacular post-industrial revitalizations in Łódź. Once again, recalling the architectural and cultural traditions of Łódź.
New functional functions will allow WI-MA to introduce a new life and restore this area to the local community as a friendly place to work, live and recreation.
We are very pleased with the launch of this amazing project. Historic architecture is not only a great design and construction challenge, but above all the developer's obligation to consciously and responsibly fulfill its city-forming role. The restored complex will also include offices, apartments for rent and commercial and service premises, which are to attract both tenants and residents of Łódź, which is extremely important for the development of the city and the district.
says the Investor, Cavatina Holding
The reconstruction is carried out in accordance with the conservation guidelines. At this stage, mainly cleaning works are carried out. The investor will keep the elements of the former factory buildings, in particular the brick walls of the external walls, and will maintain the original urban layout of the entire area.
Cavatina Holding's concept of restoring the splendor of the area of ​​Widzewska Manufaktura includes the reconstruction of the already existing facilities. Thus, a multifunctional complex will be built here, offering offices, apartments for rent, commercial and service premises as well as open spaces for rest and recreation, including a gastronomic and cultural zone. The 100-year-old park with a fountain, revitalized by the investor, will be a common meeting place for all users and the green heart of this investment. Modern A-class offices will be located in the former "American" spinning mill (where cotton from the USA was processed), while the twisting and changing facilities will be adapted for residential purposes.
Cavatina Holding S.A.