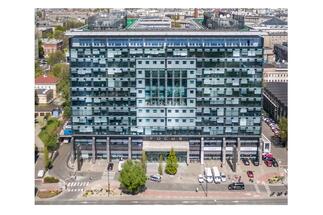 The Organ Symphony was conducted by Michał Klauza in collaboration with the Polish Radio Symphony Orchestra in Warsaw, which was joined in its finale by the University of Warsaw Choir and the Choir of the Physics Faculty of the University of Warsaw.
Symphony No. 3, the key part of the program, is not only one of the fundamental pieces written by the French composer Camille Saint-Saëns, but also a truly significant symphonic work of the late Romantic period. Symphony No. 3 brings forth multiple emotions as a prelude culminating in a majestic finale in which the organ plays the major part.
The event was conceived as a way of bringing organ music and the architecture of FOCUS together. To achieve this, the office building was equipped with the organ, described as "the king of instruments", for Professor Roman Perucki to play musical pieces. In addition, an organ case was built which delighted the audience with its illuminations.
FOCUS is located at 26 Armii Ludowej Avenue in downtown Warsaw, close to the Łazienkowska Thoroughfare and in the vicinity of the Pole Mokotowskie park. It enjoys easy access to the Pole Mokotowskie metro station, trams and many bus stops. FOCUS offers 32,000 sq m of class A office space spread across its twelve overground floors, and approximately 400 parking spaces on three underground levels. The building was designed by APA Kuryłowicz & Associates.
Source: Cushman & Wakefield