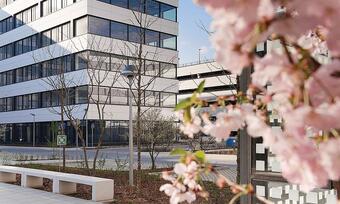 The new office buildings developed by Vastint Poland, located at Pastelowa Street in Poznań, have received an occupancy permit. The scheme which is the second phase of Business Garden consists of five office-service buildings with an area of 46,000 m2 and a free-standing multi-level parking garage. The ambition of Vastint Poland is to acquire the LEED Platinum certificates for all newly constructed buildings of the complex.
Michał Wojciechowski, Project Manager at Vastint Poland says, "After 26 months of construction works we completed the second and final phase of Business Garden Poznan. The project was developed in compliance with sustainability standards. The implemented solutions, such as an energy-saving air-conditioning system, optimal access to daylight, the use of high-quality finishing materials and a large share of green areas constituting the extension of common space will ensure comfortable working conditions for almost four thousand new workers."
Magdalena Makuch, Leasing Manager Vastint Poland, says, "One of the trends we presently notice on the labour market is the significant difference in the role of a workplace. In addition to its main role, i.e. to ensure healthy and comfortable working conditions, social aspects are becoming increasingly important. A workplace is expected to serve as a space which stimulates creativity, communication and mobility of workers. Business Garden and the facilities implemented by us perfectly fit into the currently addressed tenants' needs. We offer not only efficient and flexible office lay-out, but also a variety of accompanying services, including a kindergarten, canteen, fitness club and medical centre, but also integration places and sport zones with basketball and volleyball playgrounds in the surrounding garden."
Business Garden Poznan is a modern office complex consists of nine class A office buildings of a total leasable area of 88,000 m2 spread over a 6-hectare plot within the streets of Marcelińska, Bułgarska and Łubieńska. Proximity to the airport facilitates traveling for business customers, and the direct vicinity of bus and modernised road system of the newly created Kolorowa and Pastelowa Streets will guarantee workers easy access to the premises.
The complex is characterized by low-rise buildings, large share of green areas and a vast range of amenities adjusted to the tenants' needs. Owing to well-designed floor plans, Business Garden allows effective arrangements of office space, while the scale of the project enables expansion.
Source: Vastint