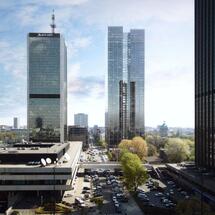 Roma Tower is to be erected in the vicinity of the Marriott hotel in Warsaw. The owner of the project is PW company, whose shareholders are BBI Development and the Pro Bonum Foundation. The plot is located next to the historic church of St. Barbara and parish buildings.
In his decision, the Mazowieckie Provincial Conservator of Monuments refused to enter the surroundings of the monument, pointing to a decision issued earlier in 2017.
The function and purpose of the plots of land that are the subject of these proceedings have been defined by an act of local law. The purpose of this administrative decision may not be to re-analyze the criteria for admitting high-rise buildings in the area in question. Such a decision would be burdened with a significant legal defect as invalidating the provisions of local law, which had previously been approved by the local authority in a properly conducted arrangement procedure of the Local Development Plan - you can read in the justification.
According to the conservator's opinion, the historical parish buildings, along with the grounds and the presbytery, were subject to comprehensive and sufficient conservation protection.
The decision means that there are no conservation restrictions for the implementation of the investment in line with the local spatial development plan.