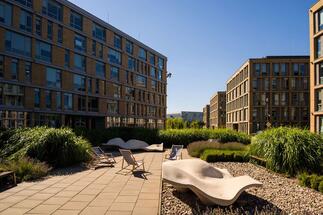 Roche Polska is a biotechnology company focusing on molecular diagnostics and targeted therapies. The Global IT Solutions Center is part of the Roche group and supports over 90,000 people. Roche employees in over 100 countries. It is one of the largest tenants of Malta Office Park. The negotiation process while extending the contract was supported by experts from the Colliers consulting company.
We have decided to extend the lease agreement for our office in Malta Office Park in Poznań, because we know how much our employees appreciate working in this place. We have a modern office, designed in accordance with the principles of activity based working, which provides employees with a friendly environment that supports them in their daily duties to the maximum - comments Paweł Pyszlak, Managing Director of the Roche Global IT Solutions Center.
The operation of the center in Malta Office Park, which supports the work of tens of thousands of people around the world, proves not only the quality of our project, but also confirms the position and attractiveness of Poznań - emphasizes Sylwia Piechnik, head of the EPP Office Leasing department.
Malta Office Park is an office complex located at ul. Archbishop Antoni Baraniak in Poznań. The usable area of ​​the complex is approximately 30 thousand square meters. sqm The investment belongs to Henderson Park (70% of shares) and EPP (30%), which is also responsible for the management of the complex.