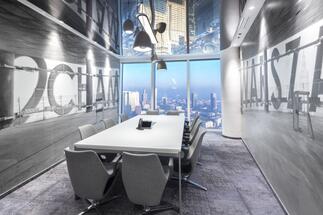 In 2023, 5.1 million sq m is planned for commissioning in the office real estate market in Europe, 23 percent of which is planned for delivery. already leased under pre-lease agreements. This means that the annual supply in the next two years will be 43 percent. higher than the average for the previous five years. However, the report shows that rising construction costs and difficulties in accessing materials and workers are increasing pressure on supply chains, causing delays in some office projects. They also affect the cost of surface finishing.
According to Savills, the largest amount of office space in Europe will be built by the end of next year in Berlin (1.8 million sq m) and Munich (one million sq m). The highest proportions of speculative investments by the end of 2023 in relation to existing stocks are observed in Barcelona (8.3%), Dublin (7.7%), Budapest (7.3%) and Berlin (5.6%). ).
We are observing an increase in tenants' interest in new and energy-efficient offices due to the pursuit of their goals of reducing carbon dioxide emissions by 2030. This trend is additionally strengthened by rising energy prices. We forecast that in 2022 the demand for office space in Europe will increase to approximately 9 million sq m. and will maintain such dynamics in 2023 - comments Mike Barnes, associate director in the commercial real estate research department in Savills.
On the real estate market, the question of the fate of older, lower-standard office buildings and the amount of funds their owners would be willing to invest to keep them attracting tenants are becoming increasingly important. Our research shows that the cost of upgrading the energy class of an office building from D to B is on average around EUR 500 per square meter. Therefore, we anticipate that the gap between rents in the most attractive office buildings and buildings with lower performance will increase, creating opportunities for owners who could obtain higher rents through appropriate management of older assets, adds Christina Sigliano, Head of Tenant Solutions in EMEA. .
In the first quarter of 2022, 273.2 thousand sq m was leased in Warsaw. sq m office space and it was one of the highest quarterly results in the history of the Warsaw market. At the end of March 2022, 323.8 thousand sq m were under construction. sq m modern office space. In the last month, the most active were companies from the public, financial and IT sectors, which accounted for 42 percent. total demand for offices in Warsaw.
Rising construction costs, higher costs of space arrangement, as well as an increase in utility charges are the challenges that the Polish office real estate market is currently facing. At the same time, more and more employees return to their offices, and companies are resuming lease processes, looking for a location for their headquarters for the coming years. Despite the pandemic, which had a negative impact on the pace of development of this market, it can be observed in Warsaw that developers are slowly trying to return to the previous level of activity. From January to December 2021, the capital city authorities issued six building conditions decisions. More importantly, seven new applications were filed with the City Hall at the same time. This is a positive signal, but before these facilities are put into service, we will see shortages in new supply on the market. Companies looking for space above 5,000 sq m.