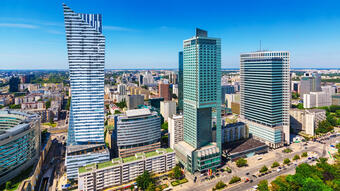 In the optimistic scenario, occupier demand remains subdued due to the coronavirus for a few months only and will bounce back strongly in the second half of the year. Savills forecasts that office take-up in Warsaw both in 2020 and in 2021 will most probably hit the ten-year average of approximately 710,000 sqm per annum.
The scenario in which the Polish capital will not suffer from a sharp decrease in office demand is underpinned, among other things, by the increased number of short- and medium-term lease renegotiations. In this scenario, Savills analysts assume that potential staff cuts or the continuation of remote work to some degree will not result in office downsizing. Work from home would be voluntary and temporary as was most often the case before the pandemic or would be balanced off by the need to implement social distancing rules in office spaces (for example by decreasing desk density or a return to cellular layouts by some companies).
According to Savills report, in the optimistic scenario, Warsaw's vacancy rate will edge up slightly, largely as a result of many new office completions as more than 800,000 sqm of new office space is scheduled for delivery by the end of 2021. Fears that office buildings under construction that are creating new Warsaw's skyline in ever-larger numbers will remain unoccupied due to the coronavirus appear unfounded as nearly 70% of the newly-constructed office space in the capital has been secured under pre-lets or letters of intent. Savills anticipates that unless the current situation causes a dramatic reduction in original requirements for workspace, Warsaw's vacancy rate will increase from 7.5% in Q1 2020 to just 10.3% at the end of this year and to 11.3% in 2021 before falling again.
"The golden period for the Polish office market has not neared its end with the outbreak of the coronavirus pandemic, but the market's rapid growth has been temporarily halted. The office sector's fundamentals are strong and solid. Recent months have exposed many disadvantages of remote work that will prevent many companies from deploying this model on a large scale when it is no longer necessary for health reasons. As the lockdown has had a very negative impact on business, office demand is likely to be muted amid rising vacancy rates in the short term until a full economic recovery sets in. Warsaw, being the largest office market in Poland, will certainly be affected," says Tomasz Buras, CEO, Savills Poland.
Poland is expected to experience negative economic growth this year - for the first time in nearly 30 years. According to the report's authors, this economic downturn is bound to have a knock-on effect on the real estate market. On the other hand, Oxford Economics, the European Commission and the World Bank expect the economy to bounce back in 2021. Unemployment forecasts indicate that the jobless rate will fall again in 2021, even to lower levels than in 2019, says Oxford Economics.
"Despite the favourable long-term economic outlook, many companies need to respond to the current situation here and now, which may weaken demand for office space in the short term. Regardless of the expected decline in unemployment in 2021, one of the most crucial questions concerning long-term forecasts for the office market is about the place where people will work. I have no doubts that the home office concept will stay with us to some extent for longer, but it will be just part of changes connected with the need for more flexibility in a work environment and in my opinion it will not mean a complete end to the office work model," adds Jarosław Pilch, Head of Tenant Representation, Office Agency, Savills.
In the first months following the introduction of measures to contain the spread of coronavirus, most tenants deferred office lease decisions. This could not go on for ever and as current leases were nearing expiry dates many companies, unsure about their future plans, wanted to avoid long-term obligations and decided to renegotiate short-term renewals. At the same time, we witnessed a focus on cost optimisation, with companies that have cut jobs wanting to sublet some office space to other firms.
"As a result of the coronavirus pandemic, some tenants are likely to look again more favourably on locations with more attractive rental rates such as Służewiec in search for savings. Weaker demand in the months ahead will also pose a challenge for owners of older office buildings. However, they will not be necessarily fighting a losing battle as many such buildings can offer greater flexibility that tenants have come to expect," says Daniel Czarnecki, Head of Landlord Representation, Office Agency, Savills.
Some companies may also be exhibiting more caution with regard to future long-term leases and be less willing to secure space for expansion. If they combine it with downsizing leased space following the introduction of a permanent remote work model for some employees or assigning them to coworking offices, this would mean an alternative and less optimistic scenario for the office market. According to Savills outlook, this could push Warsaw's vacancy rate up to 12.4% in 2021. In addition, if tenants choose to reduce headcount permanently, the vacancy rate may soar to 16.6% by the end of 2021.
According to Savills analysts, even if we make the less optimistic assumptions, they need not mean a dystopian vision of the office market. Both scenarios foresee that the current trend will be short-lived and will only slow down the pace of the market's growth, while the years post-2021 will bring a decrease in vacancies.
"Data about the impact of the last financial crisis on the real estate market may be useful in interpreting the current situation. Warsaw's vacancy rate rose from 2.9% in 2008 to 7.3% in 2009. The highest increase in vacancies that we are forecasting from 7.5% in the first quarter of 2020 to 16.6% at the end of 2021 would be smaller than that posted 12 years ago," says Wioleta Wojtczak, Head of Research, Savills.
It is worth noting that it was actually during the Covid-19 pandemic that the PZU Group finally signed a lease for 47,000 sqm of office space in the Generation Park in Warsaw's Wola district in what was the largest deal in the history of the Warsaw office market. This transaction can be seen as a certain sign of stability of the market and evidence in support of the thesis that the office will most probably remain the beating heart of most companies and an intrinsic part of running a business.
"The real estate market now needs to be more open to changes than ever before. Some changes that have been caused or accelerated by the Covid-19 pandemic are likely to stay with us for longer and permanently transform the office market's landscape. Flexibility will certainly be one of such trends. Given the outlook for an economic bounce-back next year, making hasty decisions regarding long-term strategies on the basis of short-term factors might however turn out to be a costly error. Leading international investment funds continue to target office buildings. Also, according to corporates, the pandemic has not undermined the key advantages of Warsaw in any way. Most of them will soon want to grow here and will continue to need substantial volumes of office space for that," concludes Tomasz Buras, Savills.