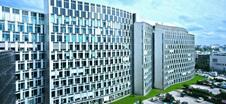 The Warsaw office market is growing at an exponential rate, with new projects emerging on the map of the Polish capital, investors stepping up activity, and tenants increasing their requirements with respect to property owners and managers. The ever stronger competition is forcing the owners of older building to make changes and adapt to current standards.
"The preparation of a new visual identity concept and rebranding strategy for Horizon was a multiphase and complex process. We began our work on rebranding with a comprehensive analysis of the building's potential, location, surroundings, and previous identity. Having reviewed the collected data and the property owner's needs, we prepared a proprietary line of solutions to reposition Horizon on the Warsaw office market. The building benefits from the increasing willingness of tenants to relocate to Mokotów-Służewiec, driven, among other things, by upgrades to the district's road infrastructure. The office hub along Wołoska Street and the intersecting Domaniewska and Marynarska streets is a very attractive location that can easily compete with office projects near Daszyńskiego roundabout," said Małgorzata Frąckiewicz, Property Marketing Manager, Office Agency, Cushman & Wakefield.
As part of the rebranding process, the office building renamed Horizon will also be revamped to a deliver a fresh interior. Its common areas, garages and outdoor areas will be provided with new signage elements. The showroom arranged to present to prospective tenants all fit-out options for a typical floorplate was relocated to the fourth floor and fully remodelled.
What attracts tenants to Służewiec?
Tenants appreciate the potential of this location as it enjoys easy access to the airport. Other advantages include the proximity of Galeria Mokotów and further new transport solutions to ease congestion and improve local traffic flow. There are also multiple Veturilo bike rental stations and bike paths in the vicinity for those favouring green transport.
"With favourable rental rates, Służewiec is becoming increasingly attractive for tenants. Office buildings aged ten years or more stand a better chance of attracting tenants thanks to upgrades to common areas, a fresh makeover or new public space features," said Anna Górska-Kwiatkowska, Partner, Landlord Representation, Office Agency, Cushman & Wakefield.
Source: Cushman & Wakefield