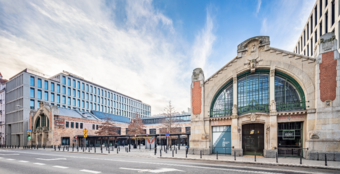 Globalworth, the owner and the manager of Hala Koszyki, together with Erbud, the general contractor of the building, are inviting game designers to enter a competition to create a graphic concept of the layout of Hala Koszyki that includes the most characteristic elements of multi-player first-person shooter video games. Prizes will be awarded for the best projects, with the winning map to be embedded in the game. The competition is open until the end of April.
On July 31st, players from across Poland will have the chance to compete in the Counter-Strike: Global Offensive finals in the real space of Koszyki, which at the same time will be the setting for the virtual game. The tournament will be supported by leading influencers of Polish e-gaming and new technologies, such as Kinga Kujawska, Ziemniak, Dominik 'GruBy' Świderski, Szpero and Kubik.
"This involvement in e-sport is a creative way for us to reach a new group of customers. We hope that the players of the iconic CS game, from Poland and across the entire world, after they have fought many battles on Koszyki's map will later want to come and see this place for real. It's worthwhile emphasising just how popular this game is – up to 900,000 users can play Counter-Strike: Global Offensive online at one time. Also, at Globalworth there are plenty of computer game enthusiasts who would be happy to fight it out in the virtual interiors of our centre. Thanks to our cooperation with Erbud, we will be able to hold an event that is unprecedented on the Polish real estate market," says Paweł Słupski, the Senior PR & Marketing Manager at Globalworth Poland.
A full description of the task and other materials related to the competition are available on its official webpage: https://esport.erbud.pl. The Gameset agency is responsible for preparing the strategy of the event and overseeing its realisation.
Hala Koszyki was built more than 100 years ago on Koszykowa Street in Warsaw on the site of what was then the Koszyki grange farm. The Secessionist style building was designed by Warsaw's leading architect of the day, Juliusz Dzierżanowski. In the autumn of 2016, it was restored to the map of Warsaw in the form of a premier culinary and social hub, where you can eat out in a wide range of bars and restaurants or buy food to take home. The complex comprises 16,000 sqm of office space and 6,500 sqm of retail. Hala Koszyki is owned and managed by Globalworth.
www.koszyki.com