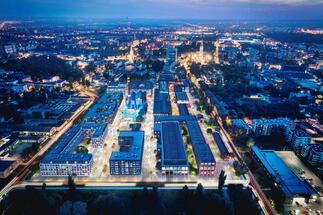 Fujitsu Technology Solutions is the largest IT infrastructure provider, operating on all the major markets in Europe, the Middle East, Africa, and India. Its clients include large enterprises, SMEs, and individual clients.
The company began its Łódź journey in March 2009 with the opening of the Fujitsu Poland Global Delivery Centre – a key location in the Fujitsu global service network. The centre provides IT support services for global clients as part of remote IT infrastructure management (end clients and data centres), application services, research on the development of new technologies and innovative products, as well as financial and accounting management for Fujitsu branches. It is here where hundreds of specialists provide solutions and support 119 leading brands from all sectors: finance, banking, automotive, services, industry/production, and telecommunications 365 days a year, 24/7. On a daily basis, the Service Desk (first and second line support) works in 21 languages, including English, German, French, Hungarian, Italian, Turkish, Slovenian, Greek, and Czech.
The decision to consolidate and choose a new location is another step in the company's growth in Łódź. Fujitsu will take up 16,300 sqm of the Fuzja office space. The new headquarters will be built in the immediate vicinity of the historic Art Nouveau CHP plant, which soon is going to be refurbished and adapted to new functions.
"Since the opening of the first building in Łódź in 2009, each subsequent stage of our move has stemmed from our continuous growth. Over time, we opened new business lines and hired more specialists, so naturally our teams expanded. It was starting to be a tight squeeze. In spring 2016, we decided to launch a second Łódź location", says Piotr Jankowski, Managing Director of the Fujitsu Poland Global Delivery Center. "Employees' reactions were completely different. We were learning to operate from two locations, but the dynamics of our development and the voices of our personnel showed that consolidation was a must. A positive work environment and the type of cooperation which blurs the division into business lines or structural hierarchy are the two key elements making our approach to services and organizational culture unique. There is nothing more important to us than our employees feeling comfortable at work, hence the search for one shared location. The question arose – what a new shared destination should be like: more campus-style (like Textorial Park) or more office-style (like University Business Park). We asked our employees about their dream office. The survey conducted by the Colliers International team clearly indicated an inclination for a campus. Fuzja will make it happen. It will give us a place where our entire Fujitsu team will be able to work under the same roof in the very heart of the city, go out for lunch when off-duty, organise team-building events, eat dinner with the client, or quickly run their private errands – this is our dream come true. We are already counting down the months until moving", he adds.
Fuzja will breathe new life into this part of Łódź. The nearly 8 hectares of the post-industrial city space in Tymienieckiego Street are undergoing revitalization. The historic buildings will regain their former splendour and become filled with people again thanks to their new functions. New facilities will be built to supplement the existing urban fabric with places to live, work, and socialise. The entire city quarter will re-open to welcome employees, residents, and visitors. The bustling Fujitsu centre will be created in the immediate vicinity of residential flats, shops, restaurants, cafés, local squares, and shared spaces full of greenery.
"The decision of Fujitsu to choose Fuzja for their new joint headquarters of Fujitsu Poland Global Delivery Centre proves that the project has great assets. The project works are gaining momentum. Although there is still a lot to be done, today we are celebrating another ground-breaking moment for the project. We are proud to announce that the Fuzja community will be joined by the great people working in the Fujitsu teams. From the very outset, we have been emphasising that what we are creating is a very unique space on the map of Łódź. Services at your fingertips, delicious coffee just around the corner, a great restaurant for lunch breaks, green squares perfect to take a breather or attend a compelling meeting or event – that is what Fuzja is all about. A colourful bustling space full of people who simply like where they are", says Katarzyna Kubicka, Regional Director at Echo Investment's Office Department.
Colliers International helped to choose the final location and elaborate contract details by Fujitsu. act BSWW advised Fujitsu on legal issues.
"Historically fuelled by the textile industry, Łódź is experiencing its renaissance. Revitalization of entire city quarters what can be proved by Fuzja, launching new projects, excellent job market, and availability of highly-skilled specialists attract the biggest players from the business services sector (SSC/BPO). This is further corroborated by the decision to expand Fujitsu in Łódź. Consolidating the existing company locations and choosing Fuzja for a new headquarters is a breakthrough moment. We are glad that we can be part of this process and celebrate the signing of the third largest office space lease agreement on the Łódź market", says Marcin Włodarczyk, Regional Director of Colliers International in Łódź.
"Thanks to projects such as Fuzja, city parts gain a unique character, being valuable for residents and businesses. This is an extremely positive trend on the Polish real estate market. We are extremely pleased that we could advise Fujitsu while concluding a lease agreement in such a unique place and with such a significant transaction on the office space commercialization market. It is another project that we support our client in", says Alicja Sołtyszewska, Partner at act BSWW.
Source: Echo Investment