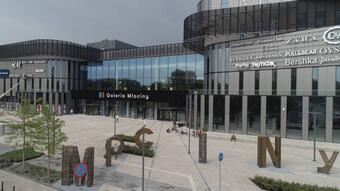 Galeria Młociny features nearly 85,000 sqm of modern, well-designed space featuring more than 6,000 sqm of restaurant and entertainment options. Gastronomy takes center stage as the center's food hall is unique within Poland's capital city, with several different zones to appeal to a broad range of different customers. There are cosy cafes, street food trucks as well as outdoor dining. In addition to a family zone with both indoor and outdoor play options for the children, there are dedicated spaces for coworking adjacent to the food hall. The center also features the first multiplex cinema in the district with 10 screens and seats that fully recline.
The main hall within the center, dubbed "fashion avenue" is designed to evoke the feeling of a high-street, something that is lacking in Poland. The shopfronts, which were designed by top-tier architects, are nearly 8 meters high with natural light. The upper floors of the complex feature terraces with playgrounds, greenspace and panoramic views.
"I have mentioned before that our flagship development in Warsaw is the jewel of our portfolio, but I can now say that Galeria Młociny shines even brighter than we anticipated. We are incredibly pleased with the results of our planning which has created a space that genuinely serves numerous different populations, from young urban professionals to families, and everyone in between, all under one roof" said Hadley Dean, CEO of EPP.
"Galeria Młociny is the largest project Echo Investment has developed so far. When creating it, we used twenty years of experience in the retail, entertainment and gastronomy sector. We wanted Galeria Młociny to be a place that will attract people to Bielany, therefore around 20% of its space was intended for a meeting, entertainment and gastronomy. Creating places where people want to stay, work, play or relax is a very important keystone of our strategy" says Nicklas Lindberg, CEO of Echo Investment.
For the opening, Galeria Młociny welcomed a star-studded list of Polish celebrities and fashion icons including, due to its outstanding food and beverage offering, several celebrity chefs. Opening activities will continue to draw in Warsaw residents for the next month as they get to know Warsaw's hottest new destination.
The centre is located just next to the Młociny transport hub - in one of the best transit locations in Warsaw, with easy access to the metro station, numerous tram lines and city, local and country bus lines, a bicycle station and a P&R car park. It is the most important interchange for the northern part of the city and neighbouring towns, which is used by over 24 million passengers every year.
Galeria Młociny's investors are EPP (70% of shares) and Echo Investment (30% of shares). While the former will manage the newly opened complex, the latter was fully responsible for the development process and leasing
Source: Echo Investment